Meet our Burlap & Barrel Single Origin Collaboration Series:
When the opportunity arose to do this original collaboration with our friends at Burlap & Barrel back in 2021, we couldn't say yes quickly enough. Burlap & Barrel offers a massive array of beautiful spices, equitably sourced from all corners of the globe. Their founders Ethan and Ori saw an opening for single source, highly curated herbs and spices so they traveled the world, meeting with farmers and finding varieties of spices that are rarely seen in western markets. They partner directly with smallholder farmers to source spices that have never been available in the US before while helping improve the livelihoods of their partner farmers and building new international food supply chains that are equitable, transparent, and traceable.
TASTING NOTES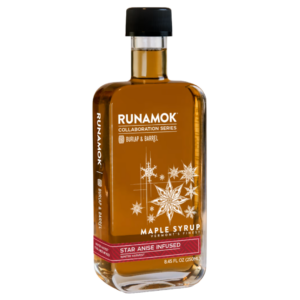 Star Anise is frequently found in both Chinese and Vietnamese cooking, and is one of the key flavors in five spice. The Star Anise used in the infusion is harvested in the winter and dried over an open fire, resulting in smokier notes, which add to the delightful complexity of the spice. The result is a sultry licorice flavor with hints of smoke and citrus.
QUICK FACTS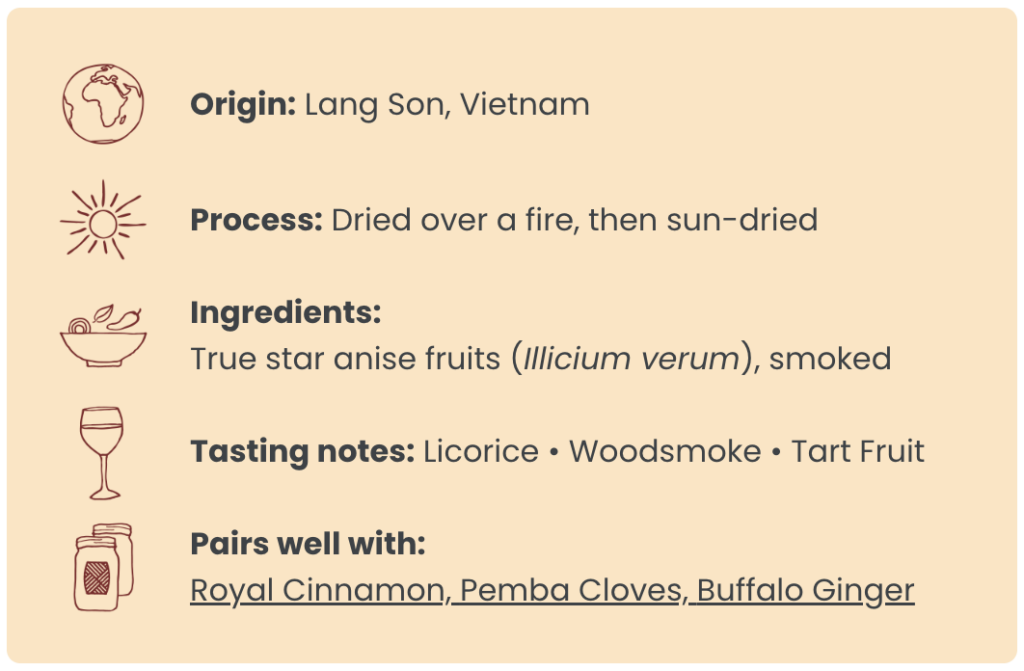 SOURCING
Burlap & Barrel's Smoked Star Anise is picked by hand in the mountains near the border between Vietnam and China. The cold, cloudy weather during the winter harvest means the star anise fruits need to be dried on racks near a wood fire, and they pick up a beautiful hint of smokiness. Meet Burlap & Barrel's farmers:
"Our Smoked Star Anise is grown by members of the Muong ethnic group in northeastern Vietnam. We work with two cousins, Chu Thi How and Hoang Thi Keo, who own a vertically integrated star anise company. They grow the fruits on their own farm and buy fresh fruit from their neighbors and community members, and they have a drying facility set up on the hill behind their home. Before our partnership, everything that they grew was shipped to China (the border is only about 15 miles away), but we're now their first and only US partner."

RECIPES & USES