Sugarmaker's Dark: Wood-Fired Vermont Maple Syrup
$18.95 – subscription plans starting at
every 2 weeks
For years we've had Runamok fans asking for a darker maple syrup. Runner-up in the 2023 New Flavor Contest, we're thrilled to now offer Sugarmaker's Dark.
Boasting a bolder maple flavor, some call it Dark Robust… we just call it the best wood-fired pure Vermont Maple Syrup around.
Size: 375ml
Tasting Notes
Grade A: Dark Color, Robust Taste. The slow fire boil and later-season dark syrup makes for our boldest maple flavor with notes of deep caramel and coffee.
For a medium-bodied maple flavor, check out our original Sugarmaker's Cut Amber Rich Maple Syrup.
Recommended Uses
Dark robust maple syrup is often used when a stronger maple flavor is desired. Whether that's in cocktails, as a glaze, over pancakes, or as a baking sweetener – this will not disappoint maple lovers.
Sourcing
Sugarmaker's Dark is sourced from a handful of our smaller sugaring partners across the state of Vermont who are making syrup the old fashioned way: slow boiled over a wood-fired evaporator.
Runamok is a family-owned and operated specialty foods company based in Northwestern Vermont. All products are made at our facility in Fairfax, Vermont.
We are committed to supporting local family farms. Our dark robust maple syrup is sourced from some of our smaller scale sugaring partners across the state of Vermont, producing remarkable dark robust maple syrup in small batches.
Sugarmaker's Dark Pure Vermont Maple Syrup is Certified Kosher by the Orthodox Union and is vegan friendly.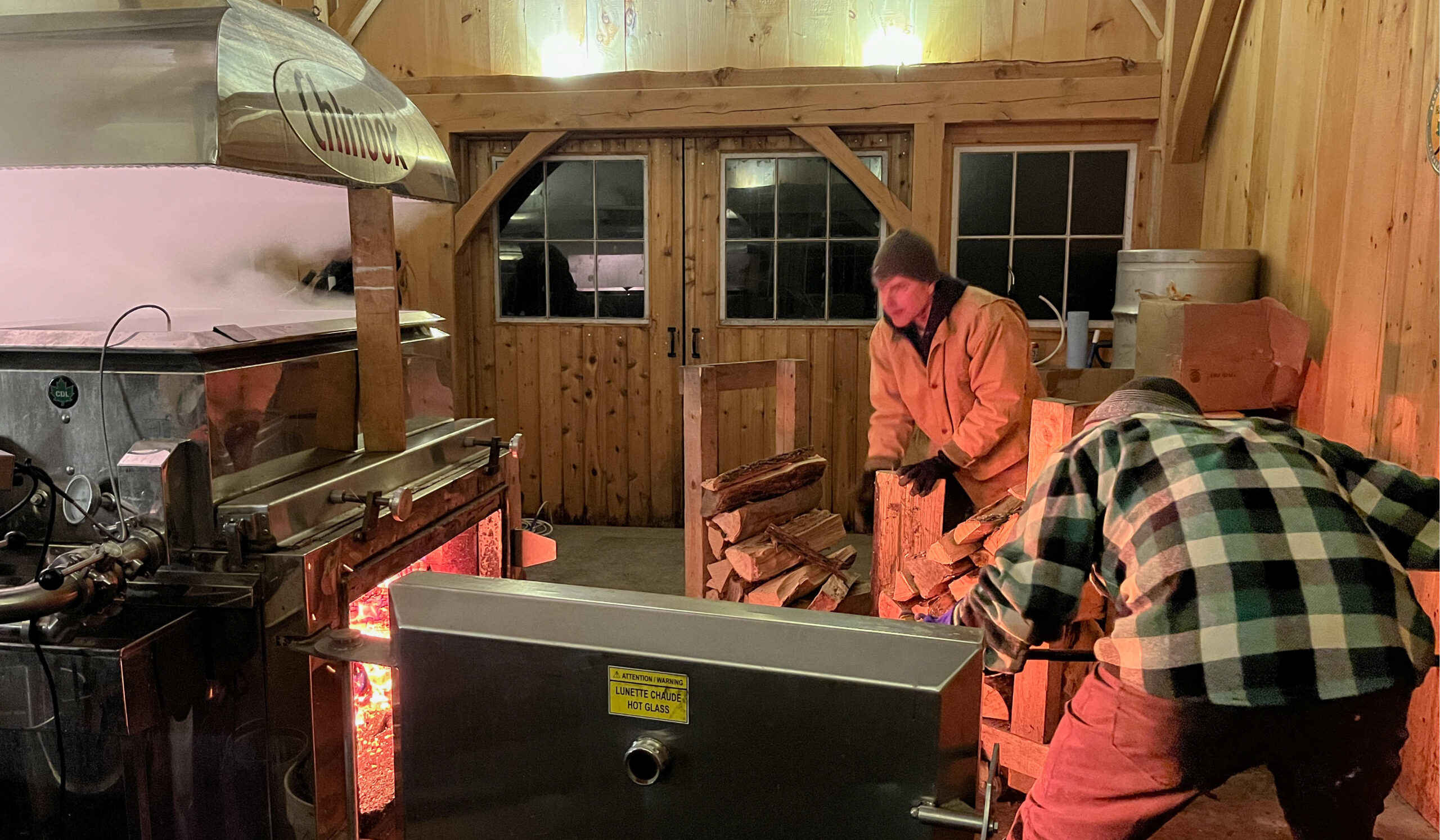 Small Batch, Wood Fired
Sugarmaker's Dark is the very best wood fired Vermont maple syrup of the season. We partner with smaller sugarmakers across the state of Vermont who still produce maple syrup "the old fashioned way", using wood to fire their evaporators. Using wood to turn sap to syrup takes longer than modern, oil-fired rigs, and the extra time over the flame brings out different characteristics in the syrup. The end result is a robust flavor that will take on a stack of waffles and robe them in bold, maple goodness.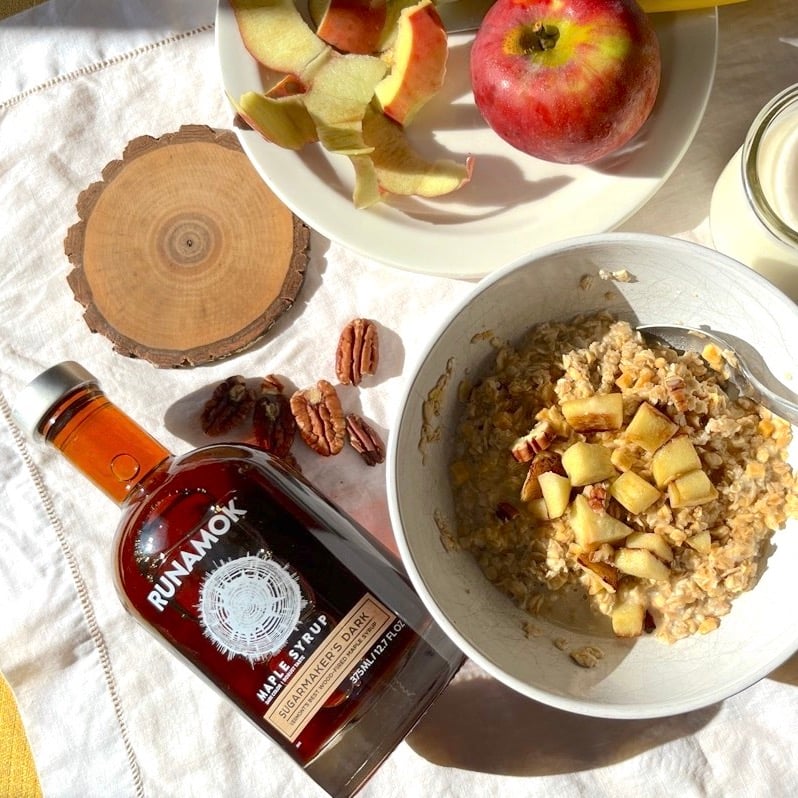 Nutrition Facts
The following information is provided for a single serving (2 tbsp or 30mL)
| | |
| --- | --- |
| Calories | 110 |
| Total Fat | 0g |
| Sodium | 5mg |
| Total Carbohydrates | 27g |
| Total Sugars | 24g |
| Protein | 0g |
| Calcium | 30mg |
| Potassium | 90mg |
| | |
| Ingredients: | Pure Vermont Maple Syrup |
FAQ: Dark Maple Syrup
Pure Maple Syrup is graded on four characteristics: color, clarity, density, and flavor. Maple Syrup is separated among four different Grade A varieties:

Grade A: Golden color and delicate taste
Grade A: Amber color and rich taste
Grade A: Dark color and robust taste
Grade A: Very dark and strong taste

Early season maple syrup is naturally lighter in color with a more delicate flavor, getting darker in color and richer in flavor as the season progresses.

This syrup is classified as Grade A, Dark Color, Robust Taste. While (technically speaking) it's not exactly the same, long time maple syrup lovers may associate this with "Grade B Maple Syrup". Produced at the latter part of the sugaring season, dark robust maple syrup has the strongest maple flavor with notes of deep caramel, coffee, and apricot.

No, the wood fire does not impart a smoky taste – this syrup tastes of pure Vermont maple! However, using wood to boil sap to syrup does take longer than modern oil-fired rigs, so the extra time over the flame and late season dark syrup results in our boldest maple yet.

If you're looking for a truly smoky flavor, our Smoked Maple Syrup is for you! We use real pecan wood and 100% pure maple syrup (no liquid smoke here).

Longtime maple lovers may remember a Grade B syrup. Even the New Flavor Contest nomination that inspired Sugarmaker's Dark recalled, "the deep dark thick Vermont Grade B of my Northern New Hampshire childhood."

Grade B was phased out of the syrup grading system in 2015 due to confusion (Grade B didn't actually denote lower quality than A, for example), and the entire grading system was reorganized. Former Grade B syrup is now split between Grade A: Dark color, robust taste and Grade A: Very dark, strong taste.

Lighter maple is typically paired with delicate flavors like yogurt, fruit, tea, or crepes. Dark maple shines in baking recipes and anywhere a stronger maple flavor is desired – cocktails, coffee, glazes, pancakes, chocolate ice cream, pie, or as a general sweetener – this will not disappoint maple lovers!

For an extra dose of maple goodness, try Sugarmaker's Dark in any recipe calling for Sugarmaker's Cut or pure maple.

Use our Sugarmaker's Dark on anything on the breakfast table, from pancakes to bacon, and even in your coffee. It's a favorite for bakers since the maple flavor really comes through and we recommend it for glazes on maple cinnamon buns or cakes. It is also a good option for savory dishes that require a bold sweetener like baked beans or bbq sauce.