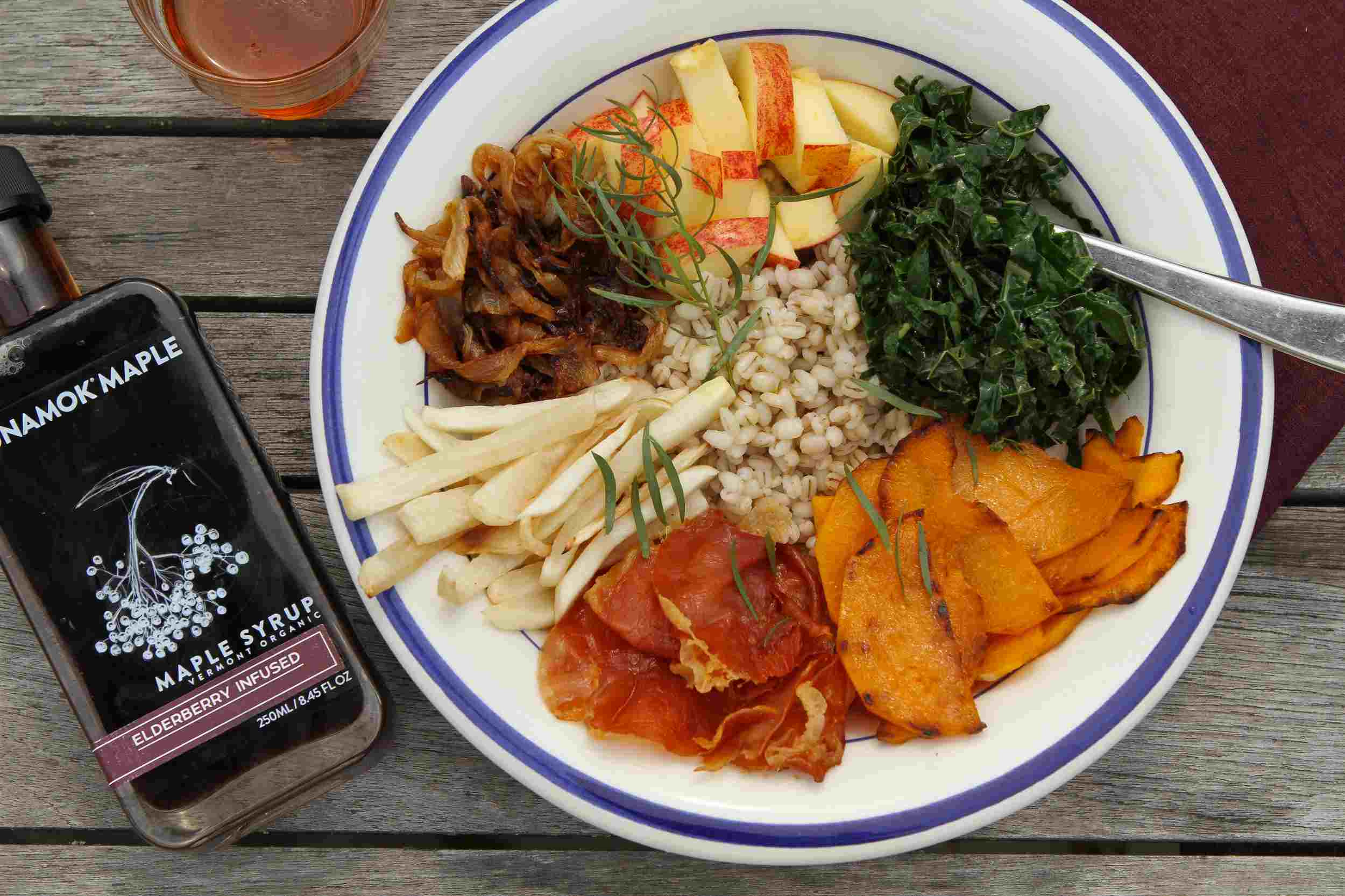 Poke bowls are the latest lunch craze.  Made with rice, raw fish, vegetables and dressing, they are popping up all over trendy neighborhoods across the country.  Being a landlocked state, we don't have a lot of fish here in Vermont, at least nothing you'd want to eat raw. We also don't grow that much rice, though I know a few determined homesteaders who have successfully done it.
Despite our lack of necessary ingredients,I created a Northeast American Poke bowl featuring the excellent produce we do have; caramelized onions, roasted butternut squash, turnips (don't wince, they're delicious), sautéed kale, and apples.  Farro (aka emmer) is generally grown in the Mediterranean region but farmers in New York State have recently started growing it and since we share the same climate and a great big lake, it counts as local. As for prosciutto, Vermont has a growing industry of cured meat entrepreneurs who are putting out some incredible products (Vermont Charcuterie).  We raise fat, happy pigs here who enjoy the byproducts of our food system such as spent grains from the craft beer industry and whey from dairies.  All of these perfectly cooked, artfully arranged in a bowl and dressed with a Tarragon-Elderberry Maple Vinaigrette makes for a lovely fall lunch.
So how can we call this a Poke Bowl if this has none of the ingredients that make up a Poke Bowl?  Well we hate to be left out of a trend. And is this the same thing as the grain bowl craze of several years ago?  Yes. Yes it is.
Vermont Poke Bowl
½ cup farro
1 turnip
1 small butternut squash
Vegetable oil
1 onion
1 small bunch of kale
1 apple
3 slices prosciutto
Tarragon and Elderberry Vinaigrette
1 tsp dijon mustard
2 Tbsp red wine vinegar
¼ cup olive oil
½ tsp salt
1 small clove garlic, peeled and chopped
To make farro, bring 1 cup of water to a boil in a medium sized pot.  Add the farro, cover with a lid and reduce heat to simmer. Let it cook until all of the liquid has been absorbed, about 15 minutes.  Set aside until it comes to room temperature.
To prepare the vegetables, start by preheating the oven to 375.  Peel the turnip, cut it into large matchsticks and set aside. Peel the butternut squash, cut in half and remove the seeds.  Slice it into medium-thin slices. Toss the turnip and squash with a light coating of oil and a little salt and place on a baking sheet.  Roast in the oven until just beginning to brown, about 15 minutes. Remove and cool.
While the vegetables are roasting, prepare the onion.  Trim the ends, remove the peel and slice thinly. Put about a tablespoon of oil in a small pan on medium heat and add the onion.  Stir, breaking up the slices and letting them brown a bit. Reduce the heat to low and sauté the onion, letting it caramelize slowly, adding more oil if necessary.  Resist the temptation to turn up the heat as that will result in the onion burning rather than caramelizing. The onions will be done when entirely brown and soft. Remove from heat and set aside.
Prepare the kale by rinsing well, removing stems and slicing into ribbons.  Add a little oil to a medium sized pan and turn the heat on medium. Add the kale and sauté until just beginning to brown, about 8 minutes.  Season with salt and pepper and remove from heat.
Core the apple but leave the skin on and dice.  If you are not eating right away, squeeze a little lemon juice on it to keep from browning.  Set aside.
For the prosciutto, add a little oil to a small sauté pan and turn the heat to medium.  Fry the slices in the oil until just crisp, about five minutes. Remove from the pan and reserve on a plate lined with paper towel to absorb excess oil.
For the vinaigrette, combine all ingredients and whisk to blend.
To serve,  find a wide, shallow bowl and put about ⅔ cup cooked farro in the bottom.  Arrange all of the other vegetables and the prosciutto in a circle around the edge in the quantities you like.  Provide the vinaigrette on the side to dress according to taste.