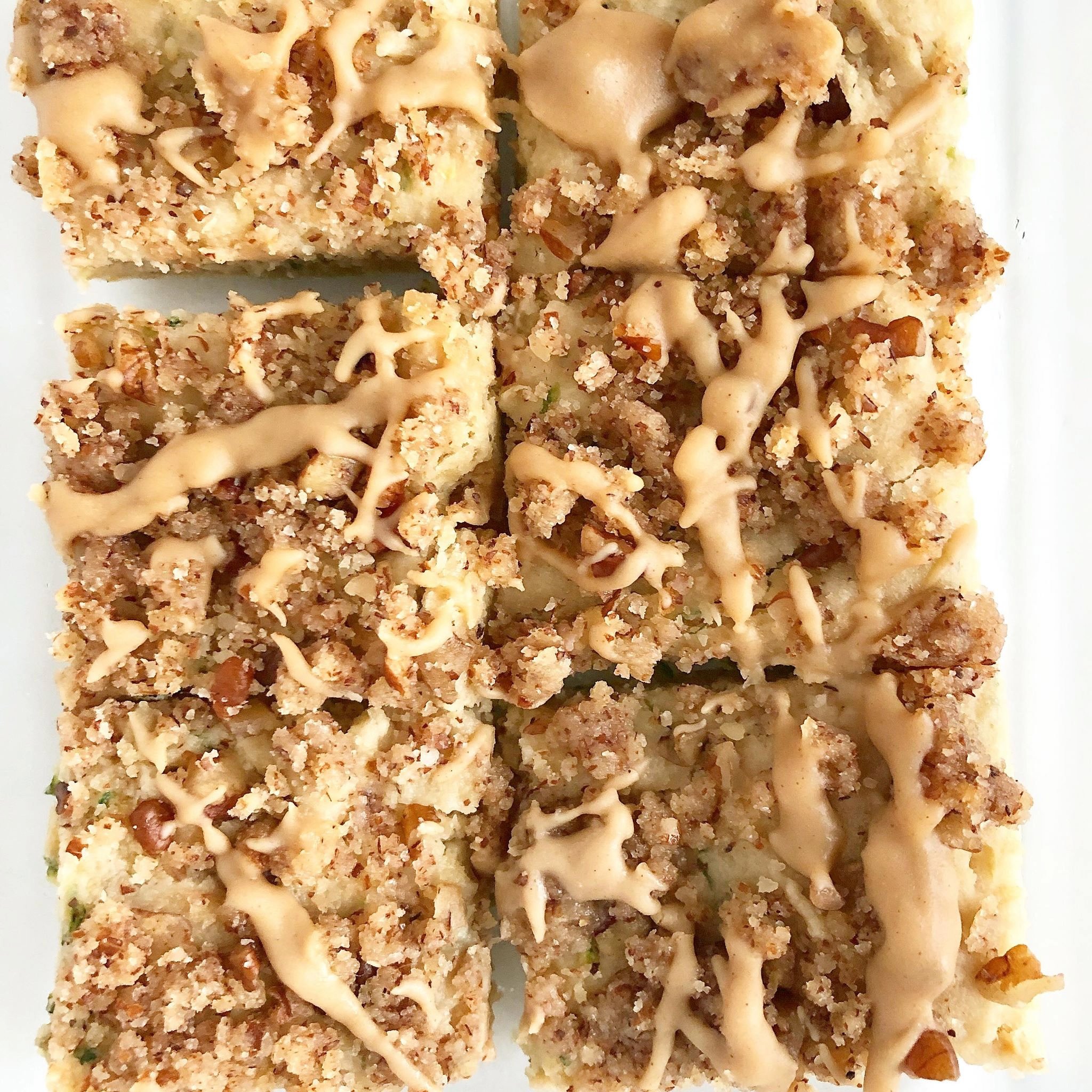 Cinnamon Zucchini Coffee Cake: Gluten Free, Vegan & Oil-free
Cake batter:
1/3 cup Runamok maple syrup (I love the cinnamon + vanilla infused)
2 tbsp non-dairy yogurt
1/3 cup melted coconut butter
1 cup grated zucchini, water strained out (or use apple!)
1  cup almond flour
1 cup GF flour blend (I like Bob's Red Mill 1:1)
1 tbsp baking powder
1 tsp cinnamon
1 tsp vanilla extract
Pinch of salt
Streusel:
1/2 c almond meal (or almond flour)
1 1/2 tbsp Runamok maple syrup
1/2 tsp ground cinnamon
Caramel:
2 tbsp coconut butter
2 tbsp non-dairy milk
Instructions:
Stir wet ingredients in a bowl until well mixed.
Combine dry in a large bowl and stir.
Fold wet into dry to create a batter.
It may seem too thick at first but the zucchini will release water as you stir.
Pour into a parchment lined 8 or 9 inch pan.
Combine streusel ingredients, mix well, and sprinkle over cake batter.
Bake for 15-18 minutes at 350 degrees or until the center is puffy and edges are golden.
Cool completely.
For caramel, melt the ingredients together in a small saucepan until a caramel forms. Drizzle over cake while caramel is still warm.
Store refrigerated for up to 5 days.