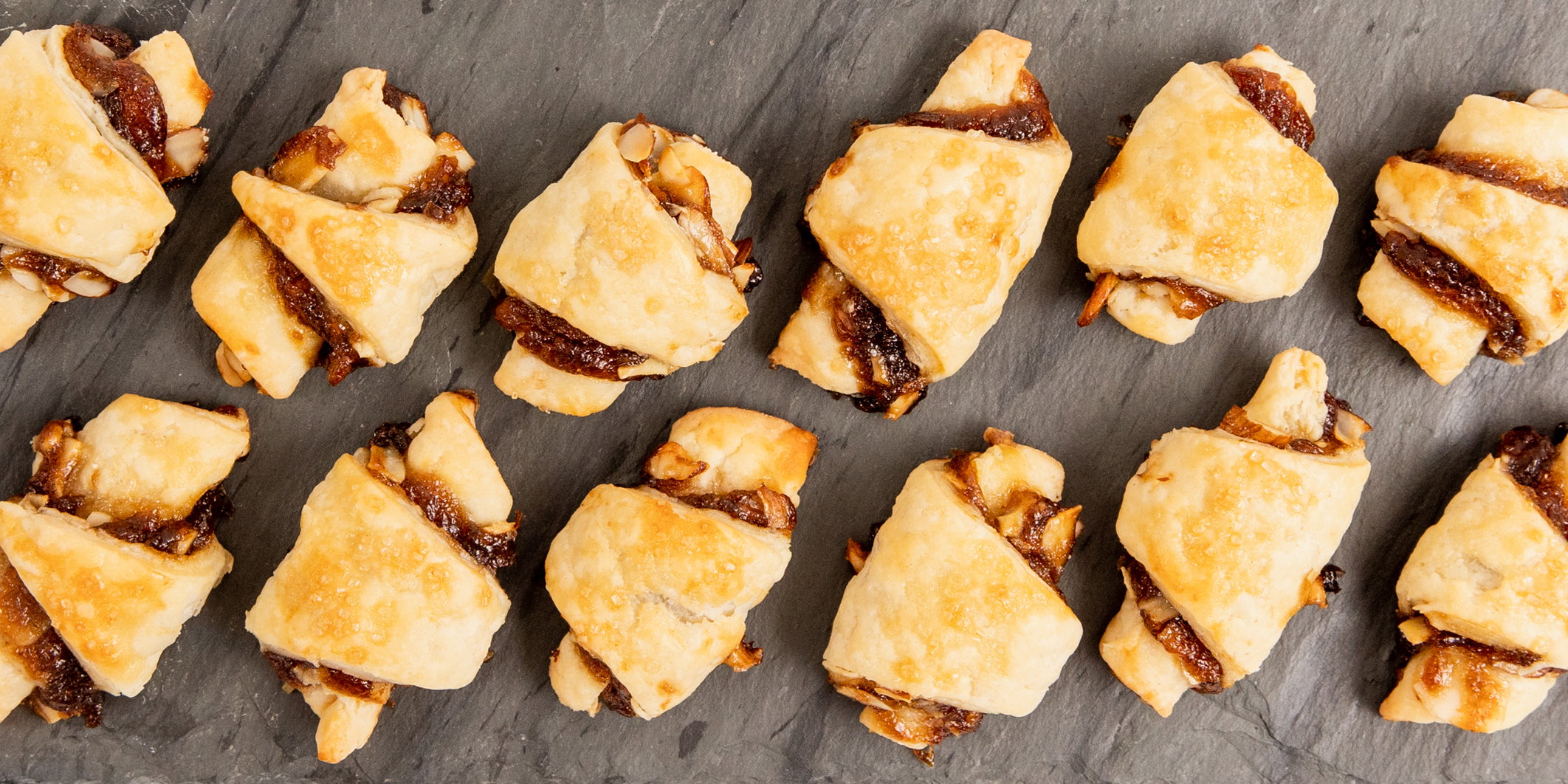 Rugelach is a flaky, jam-filled pastry of Polish-Jewish origin. You can make it with any type of jam but the rich flavor of Blake Hill's Heirloom Apple and Pumpkin Maple jams will make these a fall favorite. Adding Runamok's bitters to the jam before filling will show you just how bitters can elevate pastry. Like using vanilla, you won't necessarily detect its addition but the final result would not be as good without it.
For dough
4 oz cream cheese, diced, room temperature
1 stick (8 Tbsp) butter, diced, room temperature
1 cup flour (plus extra for rolling)
Pinch of salt
For Filling
3 Tbsp Blake Hill Pumpkin Jam
5-6 dashes Runamok Orange Maple Bitters
1 Tbsp sugar
2 Tbsp chopped Pecans
3 Tbsp Blake Hill Hierloom Apple Jam
5-6 dashes Runamok Floral Bitters
2 Tbsp chopped almonds
1 Tbsp sugar
For Glaze
1 egg
1 tsp water
2 Tbsp sugar, preferably coarse decorative sugar
To prepare the dough, put the cream cheese, butter, flour and salt in a food processor. Pulse several times to break up the cheese and butter then blend continuously until it just comes together. Try not to overwork the dough. Divide in half and flatten into two discs. Wrap in wax paper and refrigerate for at least two hours and up to 12.
When ready to fill, remove the discs and let them warm a little. The dough will be wet so be sure to dust your surface well with extra flour. One at a time, roll out the disc into a 9" circle. For the first one, spread the pumpkin jam across the middle, within an inch of the edge. Sprinkle on a tablespoon of sugar and evenly spread the pecans.  Using a pizza cutter, cut the circle into quarters. Then cut each quarter into thirds, making 12 triangles total.  Starting at the wider edge, roll towards the center and place onto a cookie sheet lined with parchment or silpat. Repeat with the remaining triangles. 
Repeat the above with the second disc, the apple jam and the chopped almonds. Put all of the prepared rugelach into the fridge and chill for at least 30 minutes.
Preheat the oven to 350F. When the oven is hot, remove the trays from the fridge. Whisk the egg and water in a small bowl and brush each pastry with the egg wash, then sprinkle extra sugar on top.  Put the pans in to bake and cook for 20-25 minutes or until golden brown (you may wish to rotate your pans halfway through if your oven temp varies). Remove from the oven and let cool. Makes 12 apple and 12 pumpkin rugelach.