This recipe comes from Danielle at Coco et Sel, (@cocoetsel on Instagram) who has shared a number of delicious and creative – and beautiful – ways to enjoy Runamok maple and honey!
There is nothing quite like a big fluffy homemade marshmallow. These mallows are naturally pink and bursting with berry flavor thanks to fresh puree. They are pillowy soft made with maple syrup and gut healing gelatin. I love the simple flavor of raspberry but you could add some rose water. They are delightful in a cup of hot cocoa. My hubby snacks on them stuffed with dark chocolate. And my kiddos as an afternoon treat.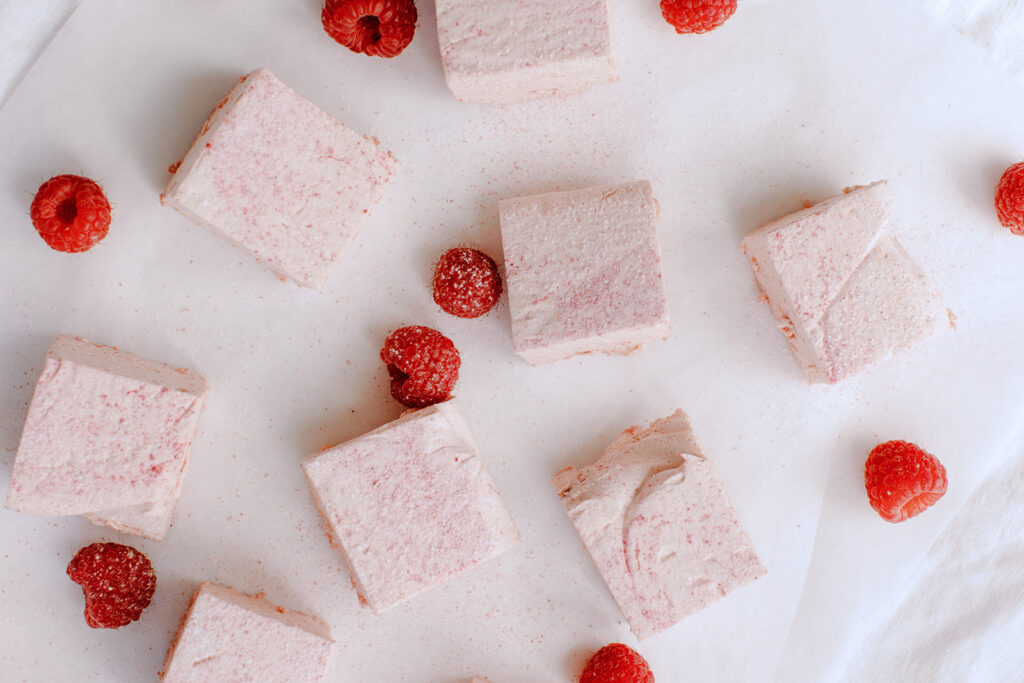 Ingredients:
2 cups frozen raspberries
3 tablespoon gelatin
1/2 cup water
1/4 teaspoon salt
1 cup Runamok maple syrup
1 teaspoon vanilla extract or seeds from vanilla bean
arrowroot or powdered sugar for coating
note: to make a pink dusting combine freeze dried raspberries in a food processor and process into a fine powder. Combine a tablespoon or two of the powder with arrowroot/powder sugar
Directions:
Line a 8X8 inch square pan with parchments and lightly dust with sifted arrowroot powder.
In a small pot gently heat the raspberries for 2-3 minute, breaking them up with a spoon or spatula. Strain removing the seeds. Allow to cool. Reserve 1/2 cup puree.
In a bowl of a stand mixer add 1/2 puree and the gelatin- allow to bloom for at least 10 minutes.
In a medium saucepan add 1/2 cup water, maple syrup and salt. Bring the mixture to a simmer and cook using a candy thermometer to monitor the temperature. Cook until the mixture reaches 240 degrees Fahrenheit (the "soft ball" stage). This should take approximately 12-15 minutes.
Turn the stand mixer on low to break up the gelatin and slowly and carefully pour the maple mixture on top. Gradually increase the speed to high and beat for 10 minutes until soft peaks form and mixture becomes super fluffy. In the last minute add the vanilla bean or extract. Remove the bowl and add 2 tablespoons puree and gently mix once or twice with the spatula.
Pour the marshmallows into the prepared pan, working quickly to smooth out the stop with an offset spatula. Allow to cool for a few minutes and then dust the top with more arrowroot powder. Allow to set for a minimum of 6 hours or overnight.
After the marshmallows cool, cut them into pieces and store in an airtight container. They will keep for a few days but are best within the first day or two. You can also store them in the fridge.