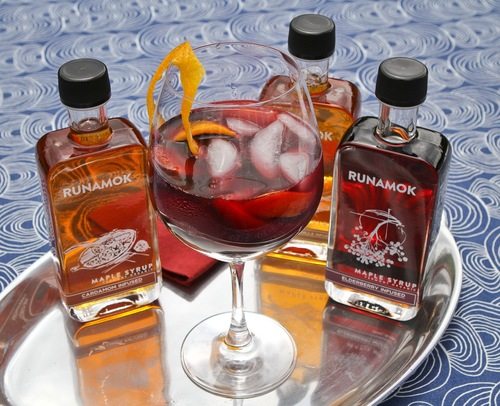 I'll buy raspberries and occasionally melons in winter. Fresh tomatoes are purchased in winter only under extreme duress. But not peaches. Never peaches. Peaches are only their true selves in July and August. And with all due respect to growers north of the Mason-Dixon, they have to come from southern USA.
Because they are such a seasonal item in my world I try to get my fill in all kinds of dishes, experimenting with both sweet and savory. A peach sangria, as it turns out, is a very fine idea. Sangria calls for a fair bit of sugar so I decided to try the infused maple syrups to replace it. The results surprised me, not because they tasted so good but because the infused syrups I selected changed the character of the sangria in audacious and wonderful ways. Adding the Cardamom Infused Maple gave it a lovely Mediterranean flavor. The Cinnamon+Vanilla Infused Maple worked surprisingly well. (My friend, Carol described the drink as "happy"). And the Elderberry Infused Maple gave the sangria depth of character, bringing out the sensuous side of the wine. All three complemented the peaches. If you have a selection of the infused syrups put a little of the sangria in three separate glasses and try them all separately to see which you like best.
Peach Sangria with Infused Maple Syrup
1 cup red wine
1 peach or nectarine, sliced, pit removed
Juice of half an orange
1 Tbs of Cardamom, Elderberry or Cinnamon+Vanilla Infused Maple Syrup (or to taste)
Add all ingredients together and stir. Let the mixture sit in the fridge for an hour to blend the flavors. Serve in a large glass over ice with orange rind garnish.