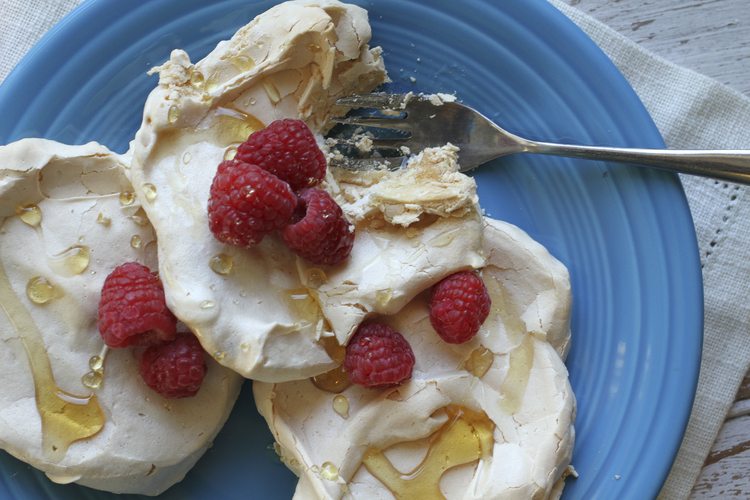 Maple syrup is delicious drizzled over plain cake or ice cream but to make a dessert that is more unexpected, try some meringue. When done right, it is crispy on the outside and gooey in the middle and a perfect vehicle for the acidity of berries mixed with sweet maple syrup.
Meringue may seem a little intimidating but all you really need to get it right is an electric beater or standing mixer. Make sure the egg whites are somewhat stiff before adding the sugar and then pour it in slowly. If you have made this recipe a few times, you could try adding some finely chopped hazelnuts or almonds to give it depth of flavor. It is also gluten-free.
Meringue can be really fun in that it holds its shape when cooked. If you have a pastry bag, use it to pipe out a disk and then add a rim, creating a little bowl. You can fill the cooked meringue with seasonal berries and a dollop of whipped cream with syrup on top. In culinary school we piped out the parts for a swan and then assembled the pieces with whipped cream in the middle. Mine tended to look like a fat duck but I long ago accepted that I am not a pastry artist and the point was it tasted great.
This dish really goes well with the Makrut lime-leaf infused syrup but any of our syrups, including Bourbon barrel-aged would also work. Serve with fresh berries and a generous pour of syrup and you have an easy, elegant dessert.
Meringues
2 egg whites
½ cup granulated sugar
½ tsp vanilla
½ tsp white vinegar
¼ cup confectioner's sugar
Fresh berries
Preheat oven to 300°F. Line a baking sheet with parchment paper.
Put the egg whites in a bowl or standing mixer with whisk attached. Beat until soft peaks form. Gradually add the granulated sugar in a slow stream until it is incorporated. Continue beating until the mixture has lost all graininess from the sugar – this may take 5 to 10 minutes. When the mixture is glossy and holds stiff peaks, add the vanilla, the vinegar and the remaining confectioner's sugar. Quickly whisk to blend.
For free-form meringue, place a dollop of meringue on the parchment paper and shape into a disk roughly 5" across with a spatula. Repeat with remaining mixture. Place in the oven and reduce heat to 275°F. Bake for approximately 45 minutes but don't let the outside get too brown. Turn off the oven and open the door but leave the tray inside to let them cool down slowly.
When you are ready to serve, place a meringue on a small plate, top with berries and drizzle generously with infused maple syrup.