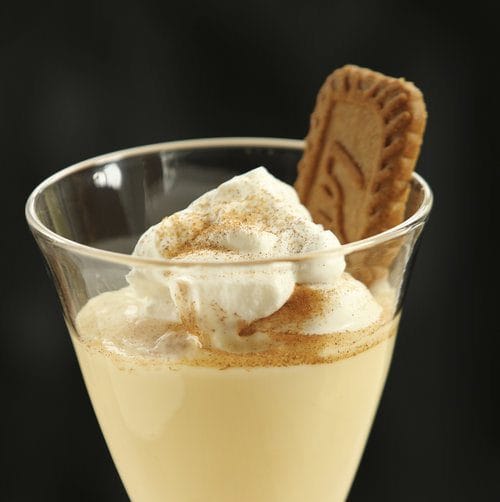 I am often asked for the best way to cook with maple syrup and the answer is easy: paired with dairy.
Butter, milk, cream, even yogurt, bring out the best in maple. Yes, maple syrup alone is heavenly poured over your pancakes but add a pat of butter on top and you elevate the stack to St.John's choir singing "Ode to Joy" from Beethoven's Ninth. It is for this reason that so many restaurants in Vermont have a maple crème brûlée on their menu; a cream custard is the perfect vehicle to taste every last nuance of maple's complexity.
With props to that ubiquitous dessert, I wanted to switch it up (or down, depending on your tastes) and make a more earthy American maple pudding. Pudding and crème brûlée are close cousins. Both use egg yolks and sugar in a slow cooking method to thicken cream. Pudding, however, uses corn starch to make sure that the mixture thickens into pillows of creamy ambrosia. I have actually witnessed people needing to close their eyes and sigh from the pleasure delivered by this pudding.
Having been freed of the refinement that a crème brûlée requires allows one to plop a homemade oatmeal or cinnamon cookie at the side of the pudding. Top it off with whipped cream.
As long as I've thrown in one musical analogy, I'll say that this is John Mellencamp kind of food. Even if he is not your favorite, who doesn't start doing the chin jut when 'Jack and Diane' comes on? This pudding is like that: all-American and makes you hum.
Maple Pudding
2 cups milk
1 cup heavy cream
1 cup Sugarmaker's Cut Pure Maple Syrup
Pinch of salt
¼ cup cornstarch
2 large egg yolks
3 tbs butter
1 tsp vanilla
1 1/2 cups whipping cream for topping
Put one cup of milk, the cream, maple syrup and pinch of salt in a medium-sized pot. Heat until puffs of steam start to come off the liquid then turn off the heat (about 8 minutes).
In a small bowl, dissolve the cornstarch in the remaining cup of milk adding the liquid slowly so the cornstarch doesn't clump. Whisk in the egg yolks. Take about a cup of the hot milk mixture from the pot and slowly add it to the yolk mixture, whisking constantly.
With whisk at the ready, and the heat on medium-low, slowly pour the yolk mixture into the pot stirring constantly. Continue stirring when it is all combined making sure it is not scorching on the bottom of the pot. When the mixture starts to thicken after several minutes, turn off the heat, add the butter and vanilla and continue stirring until they are absorbed. Set aside to cool. When ready to serve, top with whipped cream and the cookie of your choice.