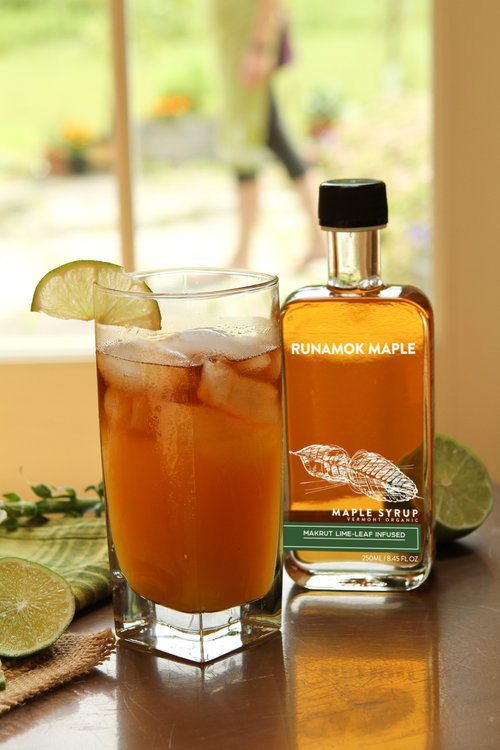 It is true that winters here linger about six weeks longer than most folks can tolerate, but there is nothing so gorgeous as a Vermont summer. While the rest of the country is showing very dark shades of red on the weather map, we enjoy 70s during the day and cool, decidedly unsticky nights. Though the thermometer occasionally creeps up to the low 90s, it is generally so damned lovely that I'm still not aware of anyone who actually owns an air conditioner.
For those few days that feel tropical and sultry we take off our plaid, flannel shirts and put on our plaid, flannel bikinis to enjoy this Maple Mai Tai. It is very simple: just rum, mango juice, a hint of unsweetened cranberry or pomegranate juice and a splash of Makrut Lime-Leaf Infused maple syrup. It is definitely sweet but the Makrut Lime-Leaf gives it some tropical essence while the cranberry or pomegranate ensures it doesn't taste like a melted popsicle. If you want to lighten it up a bit, add some seltzer. Then take it outside and enjoy maple trees for their second best use: summer shade.
Maple Mai Tai
2 ounce dark rum
¾ cup mango juice
1 tablespoon Makrut Lime-Leaf Infused Maple Syrup
1 ounce pomegranate or unsweetened cranberry juice
Seltzer (optional)
Combine all ingredients and pour over ice.