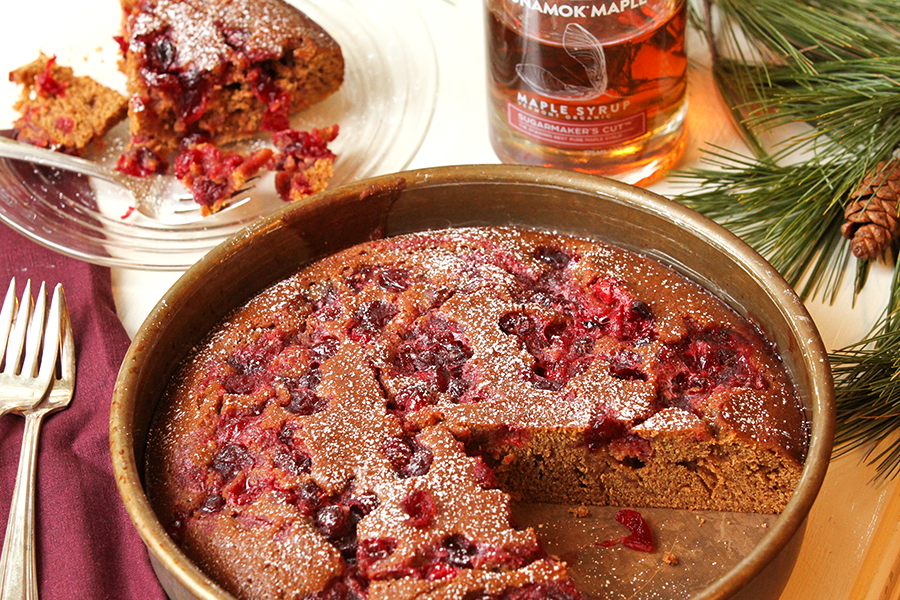 My brother, Buck is not an excellent cook but he is usually pretty good and sometimes surprisingly good.  When he was grade-school age he came up with his own version of ice cream by pouring  a can of sweetened condensed milk plus a handful of Oreos into a blender and then freezing the resultant puree in a bread loaf pan.  It was outrageously sweet and a serious contender for best Cookies n' Cream you've ever tried.  In later years, he created a recipe I called Bachelor Chicken.  It involved combining a spoonful of every condiment in the fridge in a bowl, slapping the concoction on a boneless chicken breast and grilling it.  No matter what odd collection of mustards, dips and toppings we had on hand, it usually turned out pretty well.
Since he married, his wife now does most of the cooking, though he is far from the hapless husband who is only capable of ordering pizza.  I know he still cooks because he forwarded this recipe for Cranberry Gingerbread which he found in the New York Times, giving it two thumbs up.
Like many recipes that come into my inbox, I changed this one around to make the maple syrup more of a star player.  Several reviewers for the Times' version said it was too sweet so I took a full cup of granulated sugar out of the recipe. It is still plenty sweet with molasses and brown sugar (gotta love how they put almost every type of sugar in there.)  I also switched the maple syrup from the cake batter to the cranberry sauce so it would be more prominent.  The cake turns out surprisingly light and pillowy for a gingerbread, with an intense kick from both fresh and dried ginger. A gooey sauce of fresh cranberries and maple syrup is swirled into the batter just before baking which gives it ribbons of sweet-tart fruitiness.  It is the perfect cake for a holiday potluck or tea with friends.
And if this is any indication of the kind of cooking my brother is doing these days, if you are invited to his house for dinner, I suggest you say, 'yes'.  He is a very good cook and maybe, at this point, I should not be surprised.
Maple Cranberry Gingerbread*
2 cups fresh cranberries
½ cup Sugarmaker's Cut pure maple syrup
1 stick (1/2 cup) butter
2/3 cup dark brown sugar
½ cup whole milk
¼ cup molasses
1 ½ cup all purpose flour
1 Tbsp ground, dried ginger
½ tsp ground cinnamon
½ tsp baking powder
½ tsp salt
¼ tsp baking soda
¼ tsp black pepper
2 large eggs
1 Tbsp grated fresh ginger
Preheat oven to 350.  Line a 9" cake pan with parchment to prevent sticking and then lightly grease the sides.
In a small saucepan, combine the cranberries and maple syrup.  Bring the mixture to a boil and then reduce to a simmer, stirring occasionally.  Let cook for about 8 minutes or until some of the berries have begun to pop.  Turn off the heat and set aside to cool.
In a separate saucepan, put the butter, brown sugar, milk and molasses and turn the heat on medium.  Heat until the butter is melted and the ingredients are blended but don't let it come to a boil.  Set aside to cool.
In a large bowl, combine the flour, dried ginger, cinnamon, baking powder, salt, baking soda and black pepper.  Beat in the butter mixture.  Beat in the eggs and then add the fresh ginger.
Pour the batter into the prepared pan.  Take your cranberry compote and put spoonfuls a few inches apart throughout the cake batter.  Take a knife and run it through the cranberries to make a swirl effect.  Put the cake in the oven and bake for about 30 minutes or until a fork pierced in the middle comes out clean.  Let the cake cool and then serve plain or with whipped cream.
*Originally "Sticky Cranberry Gingerbread" by Melissa Clark, New York Times