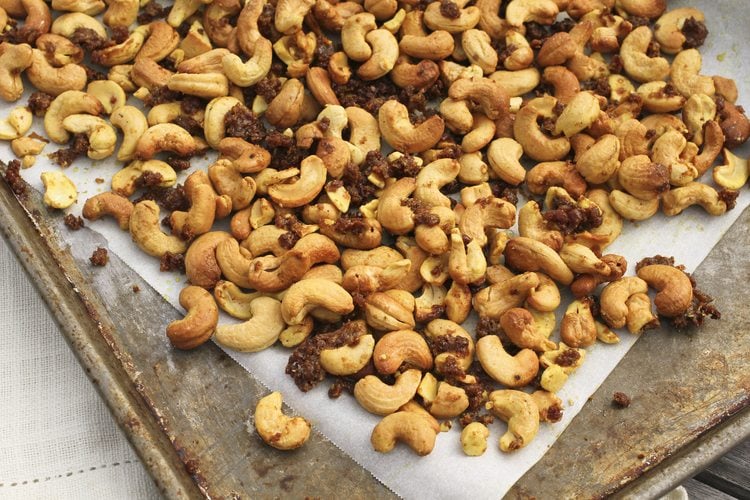 This is bar food at its sweet and salty best.  The trick to keeping it from being a greasy mess is to brown the sausage really well so the extra fat is rendered and you are left with browned little nuggets of meaty goodness that pair perfectly with the spicy-sweet nuts. Serve with extra cocktail napkins, though, just in case.
Curried Maple Cashews with Sausage Crumbles
8 oz sausage without casing
2 Tbsp Bourbon or Sugarmaker's Cut
2 cups roasted cashews
2 tsp curry powder
Salt and pepper
Place a wide pan over high heat on the stove.  Oil is usually not necessary unless the sausage is very lean.  Add the sausage and break it into small pieces as it cooks.  Continue sautéing until it is brown and crumbly and most of the fat has been rendered.  Remove with a slotted spoon, placing the crumbles on a piece of paper towel to absorb any remaining grease.
Preheat the oven to 375.  Line a rimmed cookie sheet with parchment.  In a bowl, toss the sausage crumbles, with all of the remaining ingredients and stir to coat the nuts.  Spread out the ingredients in one layer on the cookie sheet and put in the oven.  Roast for about 10 minutes or until the syrup has formed a glaze on the cashews.  Remove from the oven to cool.  Put in a bowl and serve with your favorite cocktail.