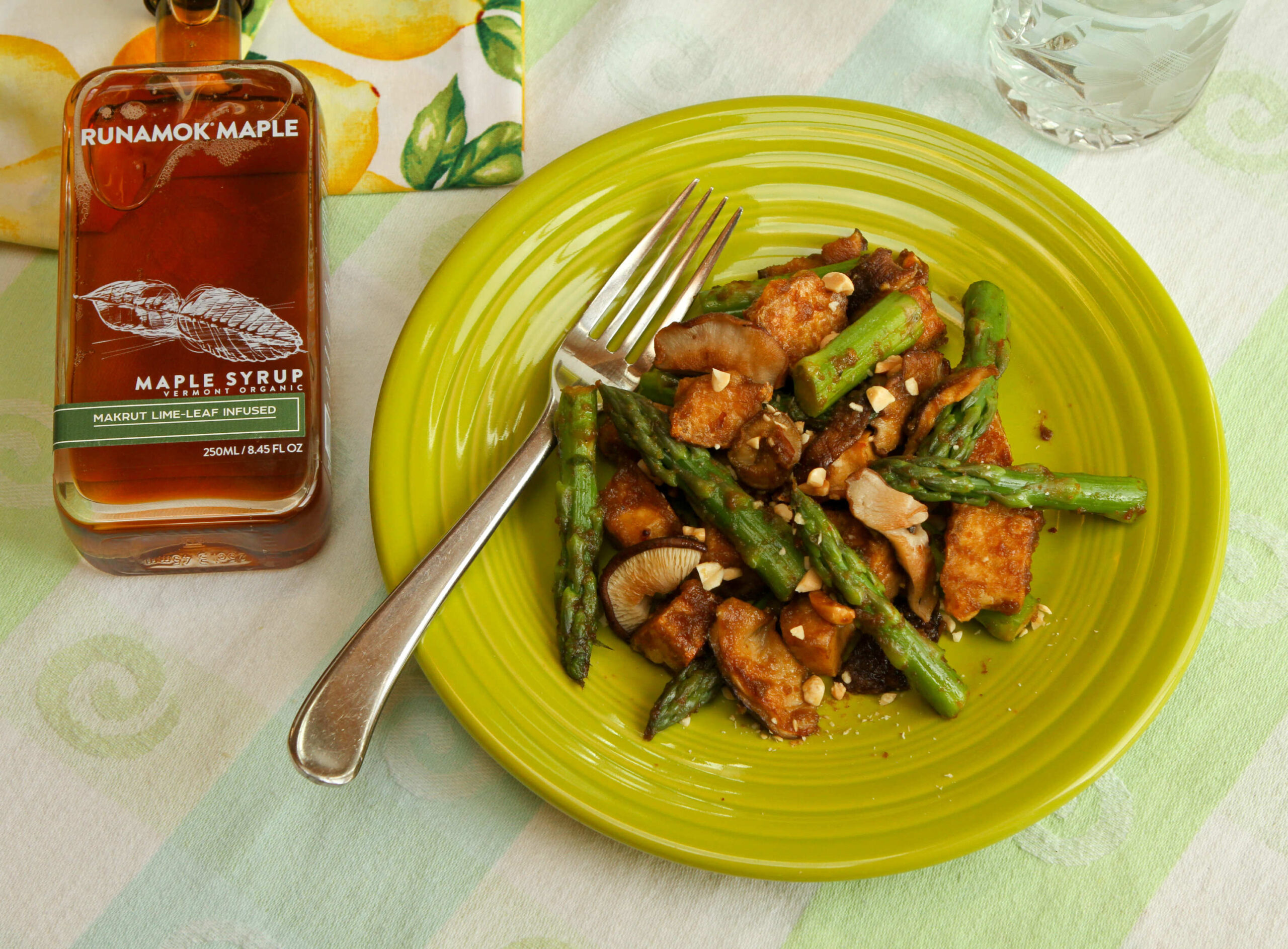 This is an easy weeknight meal that is healthy and satisfying.  The only ingredient that may be tricky to find is the green curry.  This is a Thai curry paste made from cilantro, green chilis, Thai lime leaves, ginger, lemongrass and other spices.  It is not very spicy, in spite of the chilis.  If you have an Asian market, they will certainly stock it and I have found most grocery stores now carry it in the Asian section.
Most Thai food utilizes the triad of sweet-salty-sour in their recipes and this is no exception.  The Makrut (Thai) Lime-leaf Infused Maple gives the sweet aspect in the most lovely, floral way.  The soy sauce should provide enough salt but feel free to season it further if you like.
Crispy Tofu and Asparagus with Green Curry and Makrut Lime-leaf Maple
1 pkg firm tofu, drained, cut into 1" dice
Oil for sautéing
1/3 cup cornstarch
1 large bunch asparagus, cleaned and trimmed
8 large shiitake mushrooms, stems removed, sliced
2 Tbsp green curry
2 Tbsp soy sauce
2 – 3 tsp Makrut Lime-leaf Infused Maple Syrup
½ cup vegetable or chicken broth
1 Tbsp chopped roasted peanuts
Preheat the oven to 375.  Gently toss the tofu with the cornstarch to coat and spread it on an oiled sheet pan.  Put in the oven to roast for approximately 20 minutes or until brown and crispy.  Remove from the oven and set aside.
In a large sauté pan, put the asparagus in the pan with a few tablespoons of water, turn the heat to high and close with a lid.  Steam the asparagus for a few minutes until tender then remove.
Add a few tablespoons of oil to the pan and turn the heat to medium high and add the shiitake mushrooms.  Saute until brown, about 7 minutes, then remove.
Add the green curry, soy sauce, Makrut maple and broth to the pan and bring to a boil.  Cook until the sauce thickens, about 3 minutes.  Add the tofu, mushrooms and asparagus and toss the ingredients with the sauce to coat and reheat.  Place all the ingredients on a plate making sure to get all the sauce from the pan, then sprinkle on the chopped peanuts.  Serve with rice.