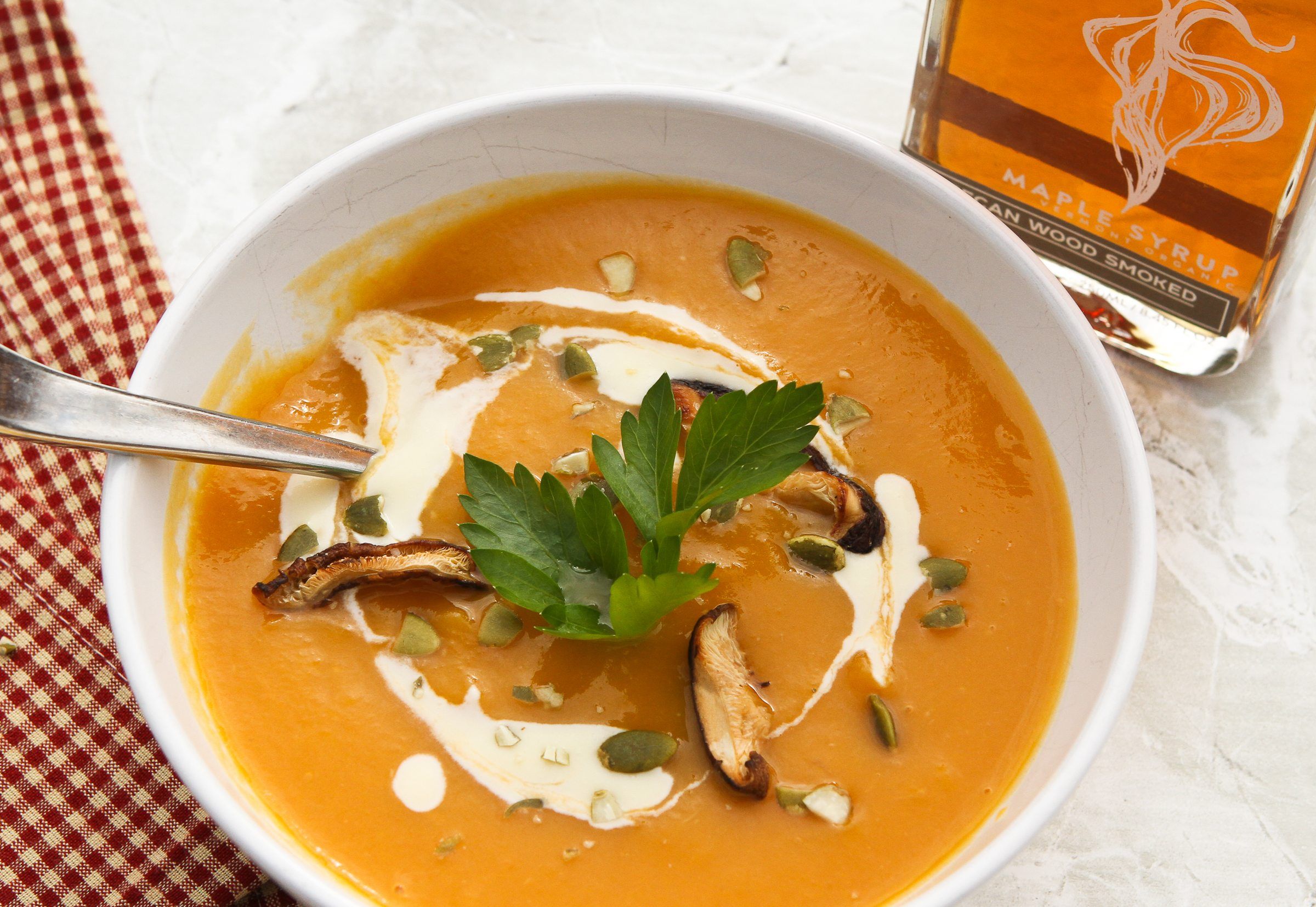 There are a few dishes that are now just platforms for a chef's signature.  They have been done so many times that the standard simply will not do.  Any chef worth her salt would not serve a simple tomato and mozzarella pizza but would imprint her regional or stylistic mark on it.  Thin crust with arugula, pancetta and a fried egg anyone?
Butternut squash soup is like that.  The standard is pretty good and always welcome on a cold November day, but like a boneless chicken breast, there are a lot of directions one could go to make it a whole hellava lot more interesting.  To add a bit of texture so I don't feel like I'm eating baby food I throw on some sautéed shitake mushrooms and crispy pepitas.  The addition that makes it a Runamok recipe, though, is a drizzle of cream that has been blended with Pecan Wood Smoked Maple Syrup.  Just a touch sweet and smoky and oh, so creamy.  Take that, Anise-Spiced Squash Soup with Fennel Chips.
Butternut Squash Soup with Sauteed Shitakes, Pepitas and Pecan Wood Smoked Maple Cream
1 onion, peeled and diced
vegetable oil
3 cloves garlic, peeled and chopped
1 medium butternut squash that has been peeled, seeded and diced (about 4 cups)
1 apple, peeled, cored and diced
1 qt chicken stock
Salt and pepper
½ cup heavy cream
2 Tbsp Runamok Pecan Wood Smoked Maple Syrup
4 or 5 fresh shiitake mushrooms, stemmed and sliced
A few Tbsp salted pepitas
In a large pot, heat about 2 Tbsp. oil and add the onions.  Let the onions sauté in the pan until just turning brown.  Add the garlic and cook a few minutes more.  Add the squash, apple and chicken stock.  Bring to a boil then reduce heat to a simmer.  Let the soup cook until the squash is very tender.  Let cool a bit then put in a blender until smooth (you may need to add some water if it is too thick).  Taste for seasoning and add salt and pepper accordingly.
In a separate small skillet, heat about 1 Tbsp oil and add sliced shiitakes.  Cook until nicely browned and then season with salt.
In a small sauce pan, heat the cream.  Bring to a boil and then lower to a simmer.  Let the cream reduce by half.  Remove from the heat and add the Smoked Maple Syrup and a pinch of salt.  Stir to blend.
When ready to serve, heat the soup and then ladle into a soup bowl.  Make a generous swirl of the maple cream then garnish with shitakes and pepitas.