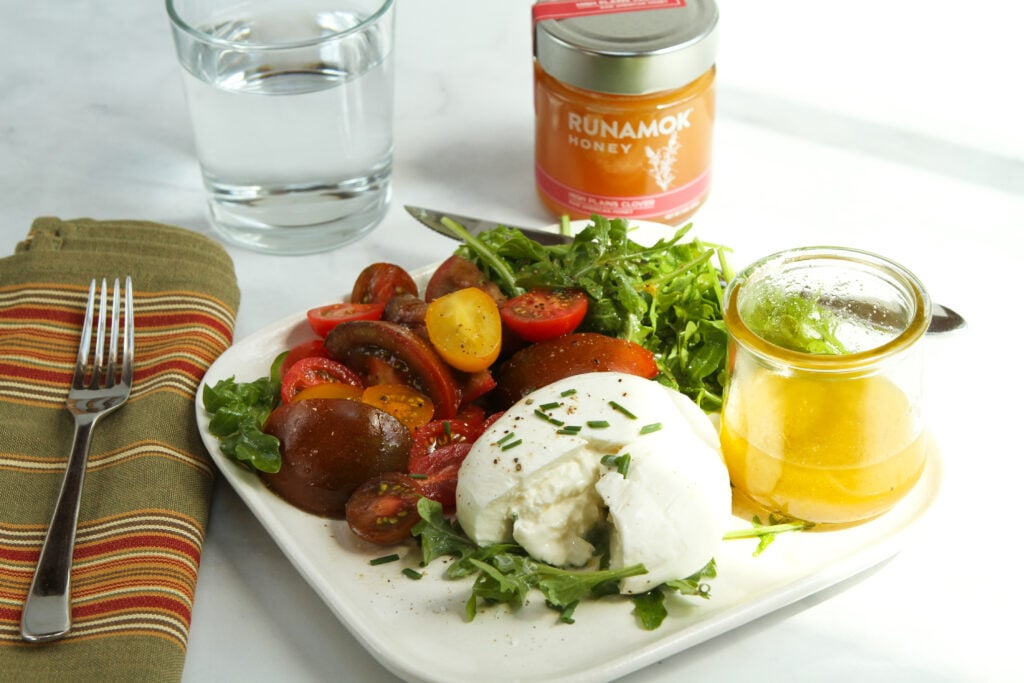 We are very proud to be based in a state that values high quality food. We routinely top the lists for "best-of" beer, our maple products are renowned, and we produce more excellent fruits and vegetables for a northern state than you might expect. But we are exceptionally proud of the cheese that is churned out in this pastured heaven.
This year Vermont won over 40 awards from the American Cheese Society, across multiple categories, including best in show. Made from goat, cow, and sheep's milk, we crushed it at the competition and so to celebrate our ag cousins we decided to pair our honey's with award-winning Vermont cheeses. We could easily have come up with 40 ideas for all of the winners but thought we would winnow it down to 4 (see the complete list here). If you do not have access to Vermont cheeses (look online) we offer some nationally available substitutes.
Burrata is the "it food" of the year, showing up on menus and Instagram feeds everywhere. So to win second place for Best Burrata is like winning runner up for Wimbledon – you know it is among the best. It is indeed gorgeous with its delicate outside and creamy inside. We decided to keep it simple and make a honey vinaigrette to go with the Burrata and Tomato Salad.

Ingredients:
Maplebrook Burrata (substitute any burrata)
arugula, or greens of choice
tomatoes
red wine vinegar
extra virgin olive oil
dijon mustard
salt and pepper
chives or other fresh herbs
Place the burrata on a salad plate and surround it with sliced tomatoes and crisp greens. Make the vinaigrette by whisking the remaining ingredients together – see a basic vinaigrette recipe here for ratios. Drizzle over the salad and serve.