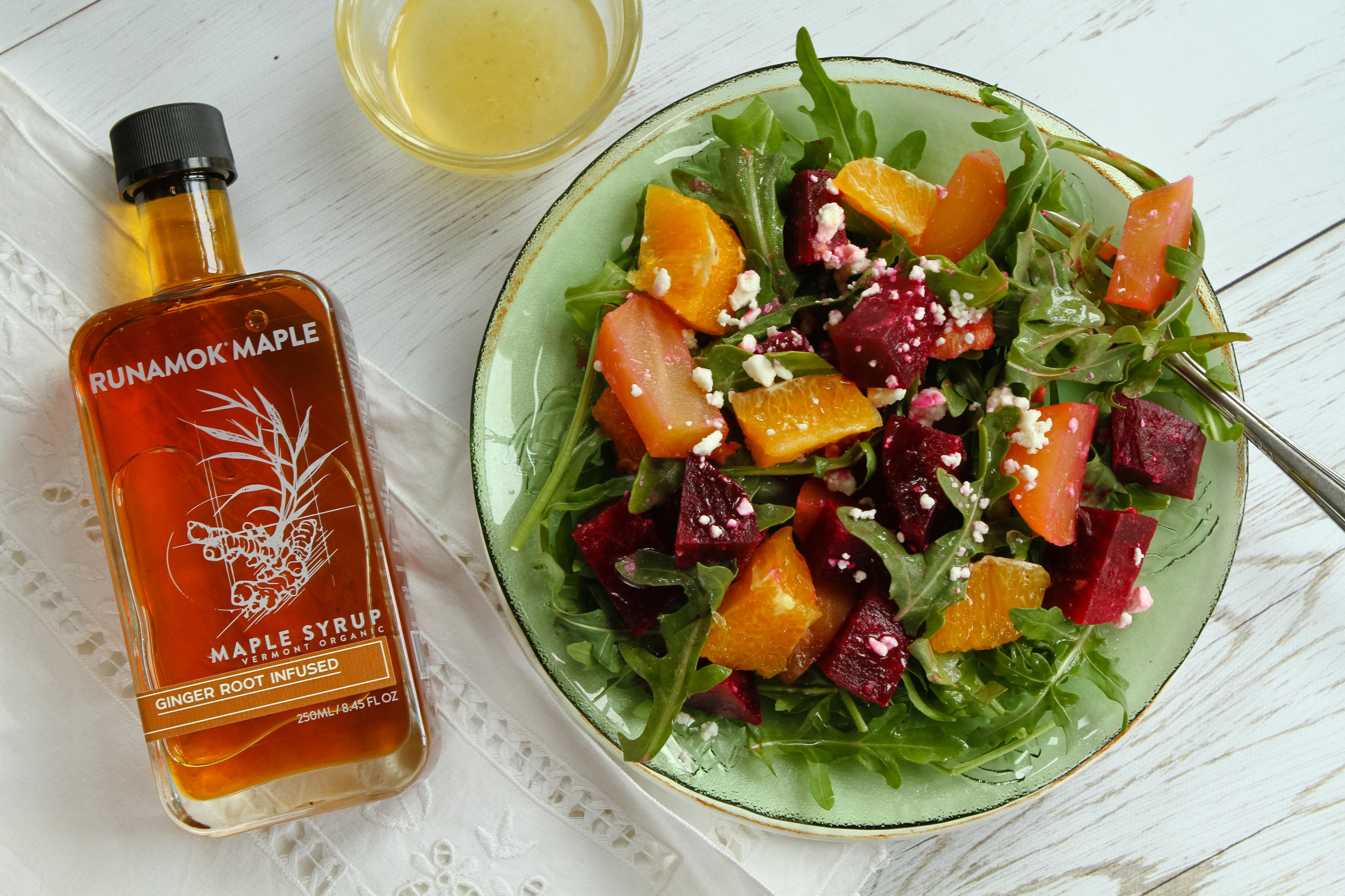 There are a few things that rarely show up in our kitchen because I am the only one in the family who likes them.  The first is cheesecake, which is desperately sad but probably for the best since the middle-aged metabolism has kicked in.  The other is beets.  I cannot sell the family on beets which is a real shame because they are so good and very nutritious.
Admittedly, when I was a kid I didn't care for them either.  My mother would prepare them and tell my siblings and me that we had to eat them because they would turn our blood red.  I dutifully forked them in because it seemed important that my blood stay red but I didn't enjoy them.  My kids did not fall for this trick (I blame the internet).
In my late teens, around the time my palate expanded to other vegetables, the beets found their way into my likes as well.  They are sweet and earthy with a satisfying texture.  My favorite preparation is to eat them cold in a salad, paired with some acidic and some salty ingredients.
This salad is a great example of their versatility and the ingredients are readily available year-round.  The tangy orange provides the acidity and the feta gives the salty element.  The arugula is nice and bitter, and to round it out, a sweet and sour vinaigrette with our Ginger Infused Maple Syrup brings it all together.
I'll make this salad for lunch when the rest of the family is not around.  It is too bad that they are missing out but I have the satisfaction of knowing my blood is still good and red.
Beet Salad with Orange, Feta and Arugula
Salad
2 – 3 beets
Bunch of arugula
1 navel orange, peeled and sectioned
2 oz feta cheese
Vinaigrette
2 Tbsp walnut oil
1 Tbsp fresh lemon juice
Salt and fresh ground pepper
Prepare the beets by scrubbing off any dirt and trimming the tops and bottoms but leaving the rest of the skin on.  Put them in boiling water for about ten minutes or until fork tender then remove from the water to cool.  The skins should come off very easily at this point and once they are peeled, dice them into chunks and set aside.
Prepare the vinaigrette by whisking all of the ingredients together and tasting for salt and pepper.
Toss the arugula and beets in some vinaigrette and arrange on a plate.  Top with bite-sized pieces of orange and a sprinkling of crumbled feta.