Pollinator Week is an annual celebration in support of pollinator health that was initiated and is managed by Pollinator Partnership.
Pollinators aren't just bees they are birds, bats, butterflies, beetles, and other small mammals that pollinate plants and are responsible for bringing us one out of every three bites of food we consume. They also sustain our ecosystems and produce our natural resources by helping plants reproduce.
Pollinator Partnership has excellent resources on how to get involved – everything from planting a pollinator garden, online courses to learn more about these important species, fun and educational activities, event calendars, even just taking the time to notice local pollinators in your own backyard.

Here at Runamok we'll be expanding the green space at our facility with a brand new pollinator garden. The team will be preparing the garden this week using a special regional mix of pollinator-friendly wildflowers from our Vermont neighbors at American Meadows. We can't wait to update you with our progress. We'll also be sharing great recipes, honey facts, more ways to get involved, and spotlights on our apiary partners who are on the front lines working to support pollinators everyday.
Follow along with Runamok on our social media channels to see how we're celebrating the pollinators this week and beyond!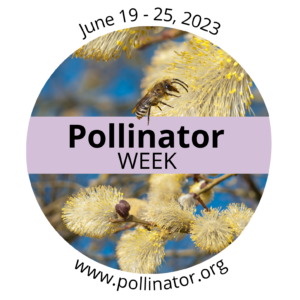 WAYS TO GET INVOLVED
SPREAD THE WORD!
Check out the materials available from Pollinator Partnership to learn more about the role of pollinators, tell local and state officials that you care about environmental policies to protect pollinators and their habitat, and help tell the story of pollinators! You can use #pollinatorweek on social media.
PLANT A POLLINATOR GARDEN
Habitat opportunities abound on every landscape – from window boxes to home and office gardens to acres of greenspace in your communities – every site can be a habitat. For ideas to get started, check out this Pollinator Garden guide from American Meadows.
HOST AN EVENT
Host a pollinator planting day at your school, office, or community center; host a nature walk; host a native plant sale or educational event at your local library. There are lots of ways to get involved.
SUPPORT LOCAL BEES AND BEEKEEPERS
Did you know much of the honey sold in the US comes from as far away as Argentina, Brazil, and China? Buying honey that is produced here in the US supports local beekeepers and pollinators, and protects domestic habitat.
INFORM AND INSPIRE
Find out all the ways you can participate by visiting Pollinator Partnership's POLLINATOR WEEK TOOLKIT!