The season is winding down here in northwest Vermont. The sap is still running but there are signs of spring everywhere…

Spring is here in Vermont, from red salamanders to the first ramps (wild leeks). The sugar maples have not yet started to bud but the red maples are about to burst with flowers. When all of the trees begin to unfurl their spring glory, the flavor of the maple will turn from sublime to "buddy" which is still sweet, but not table grade. After a day or so it is very unpalatable and then, when it really warms up, the sap stops running altogether.
We are so grateful for the hard work of our woods and sugarhouse crews both in Bolton and in Cambridge. They put in countless hours over the past 6 weeks, often working through the night to keep up with the incoming sap. There are a few more boils ahead of them (maybe) and then a well-deserved rest.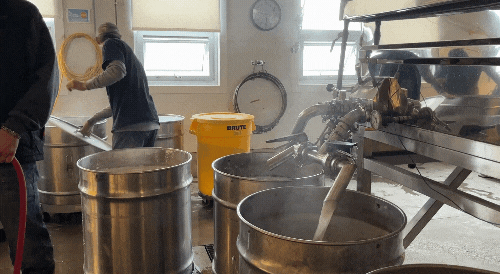 The entire region has had a banner year, which is a relief after last season's disappointing crop. Everyone in this small maple community checks in with each other to see how things are going and we can tell you there is an air of collective exhaustion matched by satisfaction over the abundant harvest.
In today's world, celebration still feels tenuous. Despite living in the sticks, we are not unaware of the tragic events unfolding on the other side of the globe. Furthermore, we feel like we are just beginning to surface from two years of pandemic tumult. All this is to say, we think it is important to appreciate when things go well, even if it is just one thing in a very complicated world. We are grateful for the hard work, good health, and good cheer of the people around us. We are thankful for a great sugaring season. We are hopeful this one good thing will blossom and spread to more.
– Laura, Eric, and Curt
and the crew at Runamok