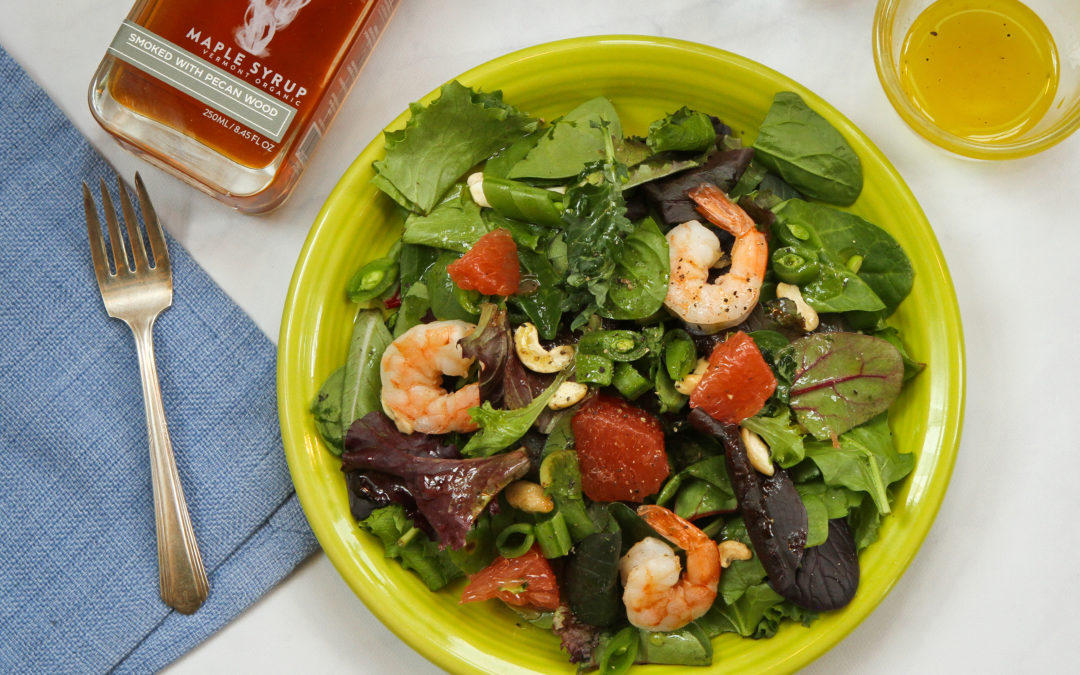 Smoky flavor in food is all the rage right now but fads exist for reason; a little smokiness gives a dish a fourth dimension.  This spring salad is a good example.  The shrimp and maple syrup provide the sweetness, the vinegar and grapefruit punch it up with acidity and the Dijon mustard and cashews give some salt.  The hint of smoke from the vinaigrette just gives added depth of flavor to the whole shebang.  You think you are getting a delicate salad with unassuming shrimp and mild snow peas but wait… what was that?  It is not a full-on day-in-the-smoke house amount of smoke but just another element that makes it a bit richer in flavor.
Shrimp, Snow Pea and Grapefruit Salad with Smoked Maple Vinaigrette
1 tsp Dijon mustard
2 Tbsp red wine vinegar
3 Tbsp extra virgin olive oil
Salt and pepper
Mesclun lettuce mix for 4
12 medium shrimp, cooked and peeled
1 grapefruit, peeled and cut into small segments
Toasted cashews
10 uncooked snow peas, rinsed and sliced
Make the vinaigrette by placing the mustard, maple syrup, vinegar and olive oil in a small bowl and whisking vigorously.
Put the mesclun greens and sliced snow peas in a bowl and toss with the vinaigrette, making sure to coat evenly.  Taste for seasoning and add salt and fresh ground pepper accordingly.
Place dressed greens on four individual plates then top with three shrimp each and a few segments of grapefruit.  Sprinkle some cashews on each salad and serve.