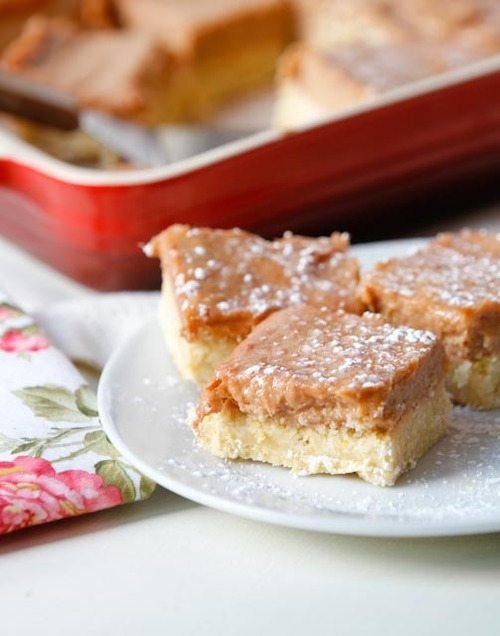 It's refined, sleek and very seasonal. It will make your mouth pucker and your eyes swoon with its garnet color. That's right… it's rhubarb. Never mind its awkward name or granny reputation, this stuff is the bomb, destined to elevate any dessert, drink or sauce to gourmet level. "What is that fresh flavor that is making this cocktail taste so good?" asks your guest. "Why that is rhubarb," you reply with a knowing smile. "The color of this sorbet is gorgeous," exclaims your girlfriend. "I know," you reply. "It's rhubarb." (wink, satisfied grin).
Does my promotion of rhubarb have anything to do with having planted a commercial size plot of it in the annual field? It might. Then again, it could just be that I am on the cutting edge of the next hot ingredient and am willing to share the knowledge. Rhubarb and maple are great mates; the caramel sweetness of maple tames the sharp acidity of it. This is a lovely dessert; a riff on a lemon square, perfect for spring events. But you can also use the rhubarb-maple combo for a simple syrup by just simmering chopped rhubarb with a generous pour of maple syrup until it is pulpy. Strain the mixture and use it in cocktails or seltzer.
Rhubarb, Maple, Lemon Squares
Shortbread:
¾ cups butter, diced
1 ¼ cup all purpose flour
¼ cup cornmeal
1/3 cup sugar
Rhubarb – Lemon Filling:
¾ lbs rhubarb, washed and diced
¼ cup maple syrup
4 egg yolks
½ cup sugar
1 tsp lemon zest
2 tsp lemon juice
3 Tb butter, diced
For the shortbread: Preheat oven to 350 and butter a small gratin dish (any variation on the 8 x 8 size will do). Place all of the ingredients of the shortbread in a bowl and kneed the butter into the dry ingredients with your fingers. When it has the consistency of moist breadcrumbs and all the butter is incorporated, pour into the gratin dish and press down into the bottom. Put in the oven and bake for about 15 minutes or until it just begins to brown. Remove from the oven.
For the filling: Put the rhubarb in a saucepan with the maple syrup and place over medium heat. Let the mixture simmer and break down until the rhubarb has 'melted' into a puree and most of the liquid is boiled off. Set aside.
In a medium sized pot put the yolks, sugar, zest, juice and butter. Stir with a whisk over medium-low heat until the sugar has dissolved and it starts to thicken (about 5 minutes). Add the rhubarb puree and cook an additional 3 minutes over low heat, stirring constantly, being careful not to let it scorch. Pour the mixture over the shortbread and return to the oven for 8 minutes. Remove when the rhubarb puree has just begun to set. Let cool, cut into squares and dust some confectioner's sugar if you wish.