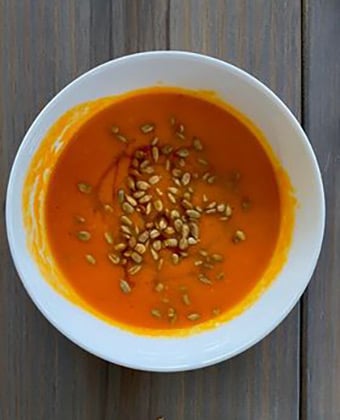 One of the pleasures of sending a unique product out into the world is seeing how other people perceive it and use it. One of our favorite customers, Bob B. and his wife MJ are always sending us notes about the various ways they use our syrups and recently, they have been on a roll. They highly recommend steel cut oats with Cinnamon+Vanilla Infused maple, slivered almonds and chia seeds. "It's awesome!" He recently started putting the new Cocoa Bean Infused in his morning latte. "Love it!" And also recommends elderberry tea with our Elderberry Infused Maple and a dusting of cinnamon. "Perfect." The most recent of his messages was about a delicious soup.
Our Cardamom Infused Maple is often my favorite of all our syrups (first place rotates with Cardamom, Whiskey Barrel-aged and Makrut Lime-Leaf Infused). I love it because it adapts so easily to both sweet and savory recipes and is my secret weapon for a kickin' cocktail. That was why I was so delighted that Bob and MJ sent this recipe for a carrot soup that gets some zing from fresh ginger but a lovely smooth finish from the warm spice of the Cardamom and maple.
Many thanks to Bob, MJ and all of our customers who reach out to us with feedback and ideas. Keep them coming.
MJ's Vegetarian Cardamom Ginger Carrot Soup
Ingredients:
2 tbs butter
2 lbs carrots, peeled and roughly chopped
1 tsp sea salt
4 cups vegetable broth
2 tbs uncooked rice
1 tbs grated fresh ginger
½ tsp freshly ground pepper
At time of serving (per serving)
1 tbs roasted sunflower seeds
½ oz Runamok Cardamom-Infused Maple Syrup
Preparation:
In a large pot over medium-high heat, melt the butter and add onion, carrots, and salt and cook, stirring occasionally until the onion softens and turns translucent 8 min.
Add vegetable broth and uncooked rice to the pot. Bring to a boil then reduce the heat to low. Simmer covered until the carrots are tender and the rice is thoroughly cooked 35-40 minutes.
Turn off the heat and allow the soup to cool for 15 minutes. Add fresh chopped ginger. Use a hand immersion blender and blend until creamy. Add more water or vegetable broth if soup is too thick.
Drizzle each serving with Runamok Cardamom-Infused Maple Syrup and sunflower seed