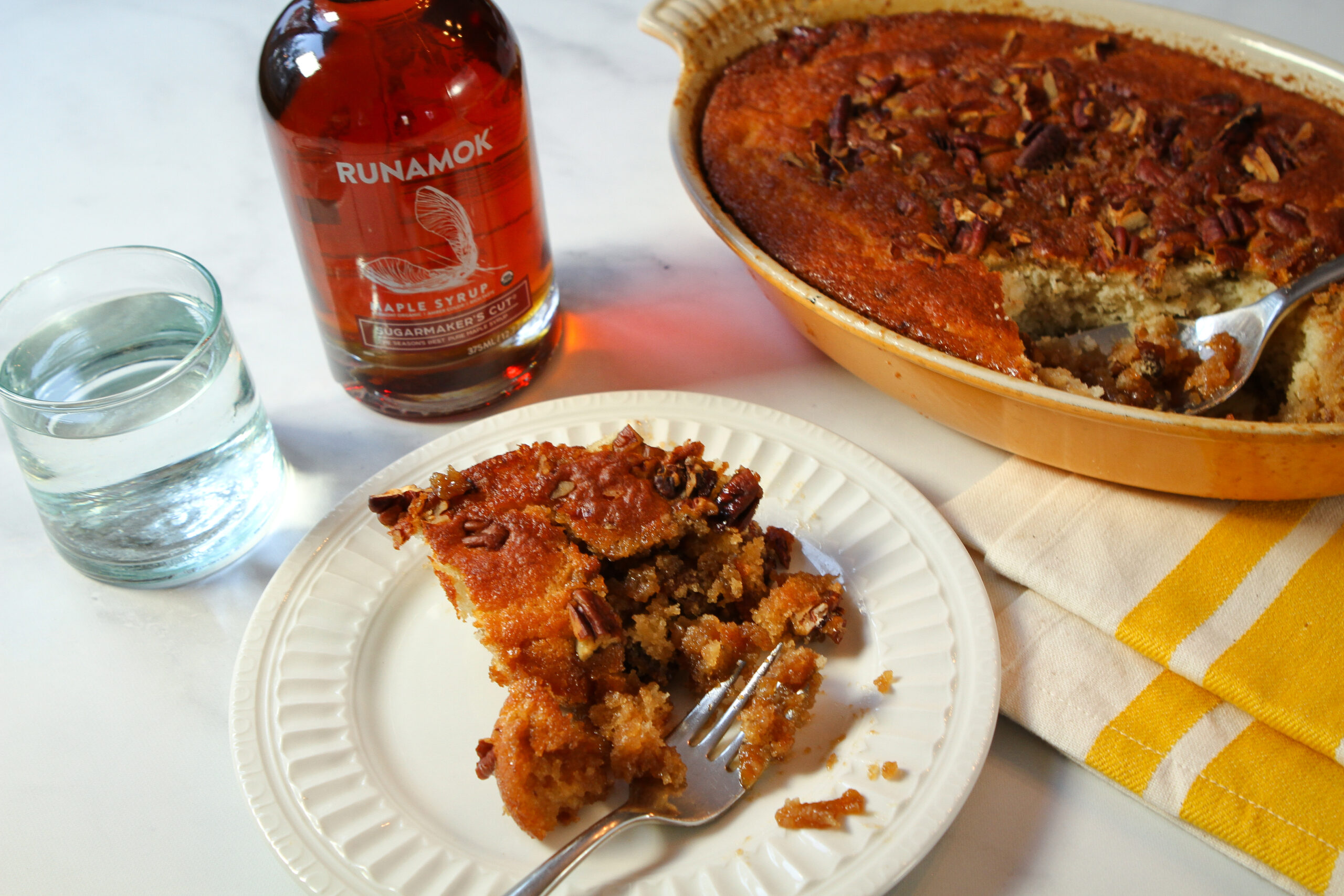 A pudding cake is made by making a typical cake batter and then cooking it with a sweet liquid. The liquid, in this case maple and bourbon, not only moistens the cake but magically goes from sitting on top of the batter to being a creamy, caramel layer underneath. Is it a cake? Sorta – one that comes with its own built in gooey, rich, sauce. In any case, it has all of the elements of a heavenly dessert: maple syrup, bourbon, banana, and pecans. No need for labels, just roll with it.
6 tablespoons unsalted butter
1/2 cup granulated sugar
1 ripe banana, mashed
1 large egg 
1 cup whole milk
1 cup all-purpose flour 
1 tablespoon baking powder
Pinch of salt
1/2 cup Runamok Sugarmaker's Cut pure maple syrup
1/2 cup light brown sugar
½ cup hot water
2 tablespoons bourbon
1/4 cup finely chopped pecans
Vanilla ice cream, for serving
Preheat the oven to 375°. Butter a deep, 2-quart baking dish.
Melt the butter and pour into a medium sized bowl. Whisk in the sugar and banana, mashing until thoroughly combined. Add in the egg and milk.

In a small bowl, sift the flour, baking powder and salt; stir into the wet ingredients until combined (the batter will be pretty loose). Pour the batter into the prepared baking dish.
Heat the maple syrup, light brown sugar and 1/2 cup of hot water until just bubbling. Turn off the heat and add the bourbon. Drizzle the syrup mixture over the batter; it will seep to the bottom. Do not stir. Scatter the pecans on top.

Set the dish on a rimmed baking sheet and bake for 35 minutes, until the cake is golden. You may consider putting a sheet tray lined with aluminum underneath in case the syrup component overflows. Let cool for 5 minutes, then scoop into bowls and serve with ice cream.
Based on a recipe from Food and Wine, by Grace Parisi, Oct 2013