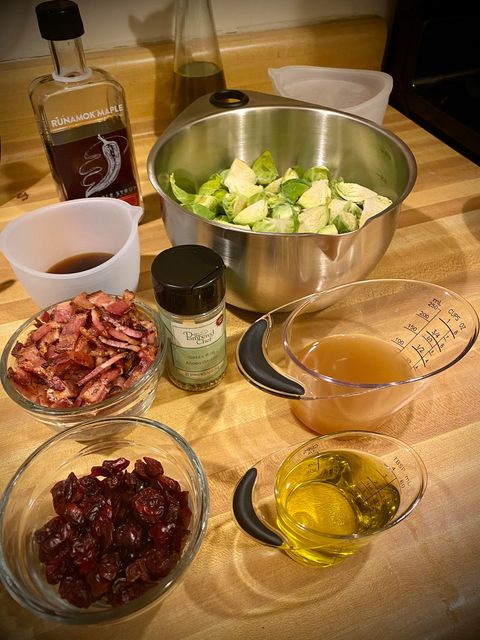 Ingredients:
1lb Brussels sprouts (quartered)
4tbs olive oil
1/4lbs thick cut maple smoked bacon
1/4C Runamok Maple Merquen Infused Maple Syrup
1/3C apple cider vinegar 
1/2C dried cranberries
1tbsp bacon drippings
1 clove minced garlic 
(Recipe Serves 4)
Cooking the Brussels Sprouts
Preheat oven to 400°
In a large mixing bowl, pour 4 tbsp of olive oil over the Brussels sprouts, add two pinches of kosher salt and a few shakes/grinds of black pepper and stir it together to fully coat the sprouts. Spread sprouts evenly on a baking sheet but ensure not to crowd the Brussels as they require room to breathe. Roast the sprouts in a 400° oven on the middle rack for 25 minutes in a conventional oven (17-20 minutes convection).
Agrodolce Sauce
To start; fry off the bacon. Place in frying pan over medium/medium high heat until tender and crisp around the edges and remove from heat. Drain all but 1 tablespoon of drippings and set aside. Chop your bacon to desired size and set aside.
Place pan back on the heat, Add garlic and sauté until Golden brown. Stir in Runamok Maple Merquen Infused Maple Syrup and apple cider vinegar. Bring to a slow simmer, and reduce about 1/4; stirring constantly. Once reduced, add in the dried cranberries with the bacon and turn off the heat. 
Final Steps
At this point your sprouts should be done roasting, remove them from the oven and drop them into the pan with the sauce. Fold the Brussels sprouts  into the sauce until evenly coated, place in a serving dish or right onto your plate. Final step, ENJOY!