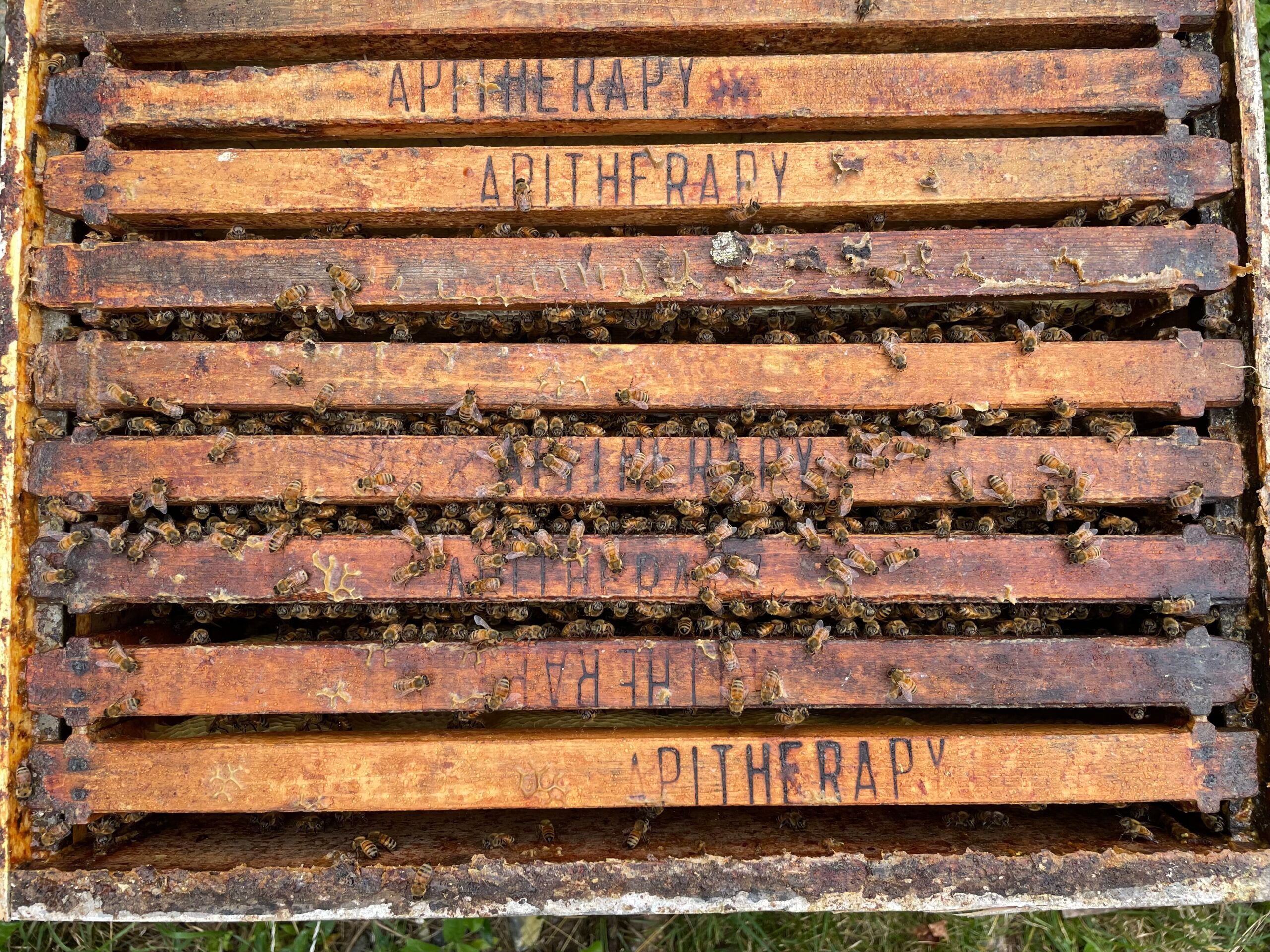 NATIONAL HONEY MONTH WHOLESALE MEDIA KIT
This National Honey Month, we're taking the time to celebrate all things honey. We've been known as a maple company since our inception, but with our new line of honey, our cocktail mixers + bitters, and our move into the broader specialty food space – things are about to change. For the whole month of September, Runamok will be highlighting just what makes our raw, infused, and hot honeys so special, and we hope that our retail partners will join us in the fun.
To make this National Honey Month celebration a success, we'd love to help support your efforts to share Runamok honey with your customers. This digital media kit includes a wealth of promotional materials – including product information, photography, recipes, tasting notes, blog, and additional resources – for use on social media, in-store promotions, customer and staff education, newsletters, and more.
PRODUCT DETAILS AND DESCRIPTION
Our raw honeys are about as close as you can get to tasting honey straight from the hive. We gently filter the honey, making sure we retain much of the original pollen and propolis, which provide raw honey many of its incredible medicinal qualities. While we do have a mild heating process to pack the honey, we ensure these temperatures don't exceed those naturally created within the hive, keeping beneficial enzymes alive. Due to its pure nature, raw honey is inclined to crystallize, and that's OK! Read more about raw honey crystallization here.

Our signature raw honey, Beekeeper's Cut is sweet and floral with a bright finish. The autumn wildflower meadow is replete with asters, rudbeckia, and goldenrod which all contribute to the character of this signature honey.

Producer Partner: Winter Family Apiaries, Wolcott, NY
Ingredients: raw American autumn blossom honey
Product Details: Item # BCH9; UPC 8-10024-30107-2; unit size 9 oz.; case pack 6; MAP $12.95
This product is certified kosher

Since honey bees are more likely to feed on clover than any other flower, this is the standard for honey flavor. The hives were set up on the high plains of Montana, giving this honey a sweet and earthy flavor.

Producer Partner: Smoot Honey Company, Power, MT & Adee Honey Farm, Bruce, SD
Ingredients: raw American honey
Product Details: Item # HPH9; UPC 8-10024-30106-5; unit size 9 oz.; case pack 6; MAP $12.95
This product is certified kosher

This honey comes from hives that have been situated in a citrus grove. The perfume of orange flowers blooms on the finish of this mild and tropical honey. Excellent in tea or on pancakes.

Producer Partner: Cantu Apiaries, Zolfo Springs, FL
Ingredients: raw Florida orange blossom honey
Product Details: Item # FOH9; UPC 8-10024-30105-8; unit size 9 oz.; case pack 6; MAP $12.95
This product is certified kosher

The first of our Limited Release honeys, Basswood Honey is a raw, varietal honey that is reminiscent of spring. It seems mild at first taste, but then blooms into a complex, sweet flavor that is bright and minty.

Use this honey for tea or on lighter cheeses, such as chèvre. It is excellent with fruit, especially apples. We also find its slight citrusy flavor makes for the perfect warm-weather cocktail like the Bees Knees.

Producer Partner: Winter Family Apiaries, Wolcott, NY
Ingredients: raw American basswood honey
Product Details: Item # BWH9; UPC 8-10024-30117-1; unit size 9 oz.; case pack 6; MAP $12.95
This product is certified kosher

Knotweed Raw Honey is a veritable 'lemonade out of lemons' sort of situation. An otherwise pesky invasive species that most folks are trying to eradicate, Knotweed provides bees with abundant pollen during a time that few other plants are flowering. In addition to helping out the bees, Knotweed also produces extremely delicious and unique raw honey. Dark, sweet and malty, it's a perfect example of just how diverse honey can be.

Producer Partner: Lynn Barton, Morris, NY
Ingredients: raw American knotweed honey
Product Details: Item # KWH9; UPC 8-10024-30124-9; unit size 9 oz.; case pack 6; MAP $12.95
This product is certified kosher

Tupelo honey is a varietal honey of exquisite flavor that is very rare and highly prized. It comes from only one region in the panhandle along the Georgia-Florida border, where the Tupelo trees blooms for only a short window in April. When we tried it here at Runamok, we found that the only way to describe it is that it tastes like honey, times 1,000. It is like the uber-honey – the supreme and outstanding example of what pure honey can taste like: sweet, rich, and, forgive us for driving the point, the honeyest of the honeys.

Our honey was harvested by transporting the hives on a barge into the Florida swamps, and we were lucky enough to accompany them on the trip down the Chipola River in April of 2022. (You can see stories and videos from our "Bee Safari" here!) It is no surprise to us that such a pristine and beautiful setting results in such excellent honey.

Producer Partner: Cantu Apiaries, Wewahitchka, FL
Ingredients: 
Product Details: Item # ; UPC ; unit size 9 oz.; case pack 6; MAP $19.95
This product is certified kosher

The years we spent honing our skills at infusing maple have been applied to this new category of honey with excellent results. We started with a high plains clover base honey from Montana because it is the perfect canvas for a variety of flavors. We did our usual perusal of the spice box and tried everything until we found combinations that are both unique and outstanding in flavor. Once we landed on an herb or spice that blends beautifully with the floral notes of the honey, we sourced the highest quality, organic ingredients we could find. The resulting infusions are honeys that are more complex and delicious than the sum of two simple ingredients. Use them on toast, in tea, or any number of baking recipes.

Bright and citrusy, this honey pulls off the taste trick of being quite lemony without any acidity. Along with the lemon it imparts herbal notes which lends itself to tea, goat and soft cheeses, and pastry.

Producer Partner: Smoot Honey Company, Power, MT (clover honey) & Adee Honey Farm, Bruce, SD (clover honey)
Ingredients: American honey infused with organic lemon verbena
Product Details: Item # LVH9; UPC 8-10024-30099-0; unit size 9 oz.; case pack 6; MAP $12.95
This product is certified kosher

This honey pops with flavor that is as vibrant as its magenta color. With tangy flavors of raspberry and lemon, it takes the sweetness of honey and bumps it up a notch so it is reminiscent of your favorite hard candy. Excellent swirled into iced tea or smoothed over english muffins with butter.

Producer Partner: Smoot Honey Company, Power, MT (clover honey) & Adee Honey Farm, Bruce, SD (clover honey)
Ingredients: American honey infused with organic hibiscus flowers
Product Details: Item # HIH9; UPC 8-10024-30100-3; unit size 9 oz.; case pack 6; MAP $12.95
This product is certified kosher

Lapsang Souchong is a black tea from China made with leaves that are dried over a fire. When infused into our high plains clover, the result is a smoky, savory honey, perfect in tea, on toast, or over hard cheeses. It is a sophisticated, elegant honey in both sweet and savory dishes, and an ideal pairing for a fall cheese plate.

Producer Partner: Smoot Honey Company, Power, MT (clover honey) & Adee Honey Farm, Bruce, SD (clover honey)
Ingredients: American honey infused with organic lapsang souchong tea
Product Details: Item # LSH9; UPC 8-10024-30123-2; unit size 9 oz.; case pack 6; MAP $12.95
This product is certified kosher

The Hot Honey is simply an extension of our infusing expertise and like all products Runamok, we considered ingredients that had not been tried before. As a Chipotle, the Morita boasts a bold, smoky flavor. The Szechuan peppercorn doesn't have the heat of a chili but brings a peppery snap that blends beautifully with sweet honey. It also brings the unmistakable tingling sensation that Szechuan is known for. And the De Arbol is not messing around; it delivers the spice equal to a cayenne pepper with a smoky, earthy flavor. These honeys are excellent on fried chicken, grilled shrimp, sharp cheeses, and roasted vegetables.

Piney with a tongue-tingling finish that Szechuan peppercorns are known for, this sweet and savory honey will bring complexity to many dishes. Use it as a glaze for pork roast or try it over hard cheeses.

Producer Partner: Smoot Honey Company, Power, MT (clover honey) & Adee Honey Farm, Bruce, SD (clover honey)
Ingredients: American honey infused with Szechuan peppercorn and organic chile pepper flakes
Product Details: Item # SPH9; UPC 8-10024-30104-1; unit size 9 oz.; case pack 6; MAP $12.95
This product is certified kosher

With a nice kick and a hint of smoke, the Chipotle Morita infused honey will not disappoint those seeking sweet heat. The fiery pepper and honey blend beautifully in this sweet/savory combination. There are many uses for this honey but one stands out as a must: drizzled on fried chicken.

Producer Partner: Smoot Honey Company, Power, MT (clover honey) & Adee Honey Farm, Bruce, SD (clover honey)
Ingredients: American honey infused with chipotle morita chile pepper
Product Details: Item # CMH9; UPC 8-10024-30103-4; unit size 9 oz.; case pack 6; MAP $12.95
This product is certified kosher

Our spiciest honey of the collection, this one brings the heat. With a heat level similar to cayenne, the De Arbol chili pepper infuses the honey, not just with spice, but complex pepper flavor as well. Use it on grilled ribs or shrimp or try it in a bold margarita.

Producer Partner: Smoot Honey Company, Power, MT (clover honey) & Adee Honey Farm, Bruce, SD (clover honey)
Ingredients: American honey infused with chile de arbol peppers
Product Details: Item # CDH9; UPC 8-10024-30102-7; unit size 9 oz.; case pack 6; MAP $12.95
This product is certified kosher
BLOGS AND ADDITIONAL LINKS
RUNAMOK BLOGS
ADDITIONAL RESOURCES
Honey Producer Map (coming soon)