We are so excited to introduce our new line of maple-based bitters. Bitters have been around for centuries as medicinal digestifs and have gradually come to be more commonly used as an ingredient for cocktails. Most often made with an alcohol base* to coax flavors out of herbs, roots, and spices, we've added a touch of maple to soften the edges and add even more nuance. Make no mistake, however, they are all quite bitter… as they are intended to be.
What does one do with bitters?
Most people are familiar with their use in cocktails. You generally only use a few dashes but the impact is big. Our Aromatic bitters are made with arnica, cinnamon, clove and allspice which inspire the flavors in darker spirits, such as bourbon and whiskey, to bloom. Astute palates may also notice hints of sarsaparilla and vanilla bean. The Orange bitters is decidedly orange forward.The aroma of citrus lies atop an elixir of complex aromatics and a subtle maple base; a fine addition to vodka and gin, but a particularly good friend to bourbon. The Floral bitters has strong floral notes with subtler, aromatic elements of cardamom and ginger all layered on a maple base. The additional mingling of rose, citrus and clove would augment any cocktail made with gin or vodka.
Bitters have a long history in classic cocktails like the Old Fashioned but they also have many uses beyond cocktails in dishes both savory and sweet. They bring with them added punch that may be subtle, but would be missed if it wasn't there. We have found our Aromatic Bitters add complexity to soups such as butternut or onion. It is also very good in vinaigrettes when you want to punch up your basic oil and vinegar. In pastry, a teaspoon of Orange Bitters in pie or cookie dough augments recipes that call for lemon or orange zest. And the Orange and Floral Bitters are flavor boosters in glazes and creams, much in the same way one would add vanilla or a liqueur to give the dish some sophistication. 
We have been experimenting with our bitters with the help of Emily Morton, the owner of Deli 126, a speakeasy bar in Burlington, Vermont.  A big cocktail history buff, Emily has done a deep dive into uses of bitters and given us loads of ideas for cocktails, pastries and savory dishes. The list is so long that we will be testing them out and uploading them to our website over the course of the year. We are excited to share them with you and hope you will check in regularly to see what is new. In the meantime, here are a few recipes to start you off.
*Our bitters have an ABV (alcohol by volume) of about 40%, which is similar to a bottle of vanilla extract. Given that you only add it in drops, the amount of additional alcohol in the finished drink is negligible. We think our bitters are excellent in non-alcoholic drinks and have several recipes as examples but if you are allergic or avoiding alcohol entirely, you should be aware of its presence.

2 oz gin
½ oz fresh lime juice
¼ oz Sugarmaker's Cut pure maple syrup
14 dashes Runamok Aromatic Bitters
7 dashes Runamok Orange Bitters
7 dashes Runamok Floral Bitters
Ice
Lime garnish
Combine all ingredients except the lime garnish in a cocktail shaker and shake vigorously.  Strain into a coupe glass and garnish with lime.

2 oz rum
3 oz ginger beer
¼ – ½ oz Sparkle Syrup (or Sugarmaker's Cut pure maple syrup)
½ oz fresh lime juice
2 dashes Runamok Aromatic Bitters
Combine all ingredients and stir. Serve in a tall glass over ice.

1 tsp Runamok Sparkle Syrup
4-6oz dry sparkling wine
2 dashes of Runamok's Aromatic, Orange or Floral bitters
lemon twist (optional)
Put a teaspoon of Sparkle Syrup in a champagne flute or wine glass. Add sparkling wine and bitters. Gently stir and serve with a twist.

¾ oz Runamok Maple Tonic
¾ oz fresh grapefruit juice
½ oz vodka
2 dashes Runamok Floral Bitters
2 oz seltzer
ice
Fresh lime garnish
In a tall glass, pour in the Maple Tonic, grapefruit juice, vodka and bitters and stir.  Top it off with seltzer and ice and garnish with a lime.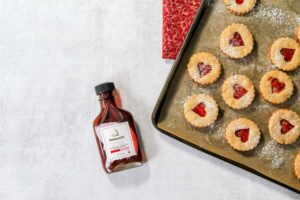 2 cups flour
1 Tbsp cornstarch
¼ tsp salt
½ cup brown sugar
1 cup (2 sticks) butter, softened
2 tsp Runamok Orange Bitters
Zest from 1 orange
¾ cup strawberry jam
1 tsp Runamok Floral Bitters (or Orange Bitters)
Confectioner's sugar for dusting (about ⅓ cup)
Combine flour, cornstarch and salt in a bowl.
In a separate bowl, cream butter and brown sugar together. Add the bitters and orange zest. Blend in the dry ingredients until just combined. Wrap in wax paper and chill in the refrigerator for 30 minutes.
Preheat oven to 350 and line a few cookie sheets with parchment paper. Divide dough in half. Roll out one half to ⅛" and cut out circles using a 2 -3" cookie cutter. Roll out the other half and cut out circles using the same cookie cutter but then cut an additional hole in the middle of the circle. If you have a fun smaller cookie cutter in the shape of a heart, star or half moon, this would be a good opportunity to use it. Bake the cookies for approximately 8-10 minutes or until just starting to brown. Remove from the oven and let cool.
In a small bowl, combine strawberry jam with Floral Bitters until smooth. Take a full cookie and place a small dallop of jam in the middle and then place a cookie with the hole in the middle on top. Repeat with remaining cookies. When finished, put the confectioner's sugar in a sieve and dust the cookies until covered.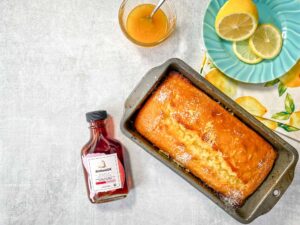 1 cup sugar
¾ cup vegetable oil
⅓ cup lemon juice
¼ cup orange juice
2 tsp Runamok Orange or Floral bitters
4 eggs
2 ½ cups flour
3 tsp baking powder
2 tablespoons confectioner's sugar
1 tablespoon orange juice
1 tsp Runamok Orange or Floral bitters
Zest from 1 lemon or orange
Butter a bread loaf pan and preheat the oven to 350.
Combine the sugar, vegetable oil, lemon and orange juice and bitters in a medium sized bowl.  Add the eggs one at a time until well blended.  Lightly mix the flour and baking powder together and then add to the wet ingredients. Pour the batter into the bread pan and bake for about 40 minutes or until a fork inserted comes out clean.
To make the glaze, combine the confectioners' sugar, orange juice, bitters and zest in a small bowl.  When the cake is still a little warm, pour the glaze over the top evenly and let set. Cool completely.  Slice and serve.