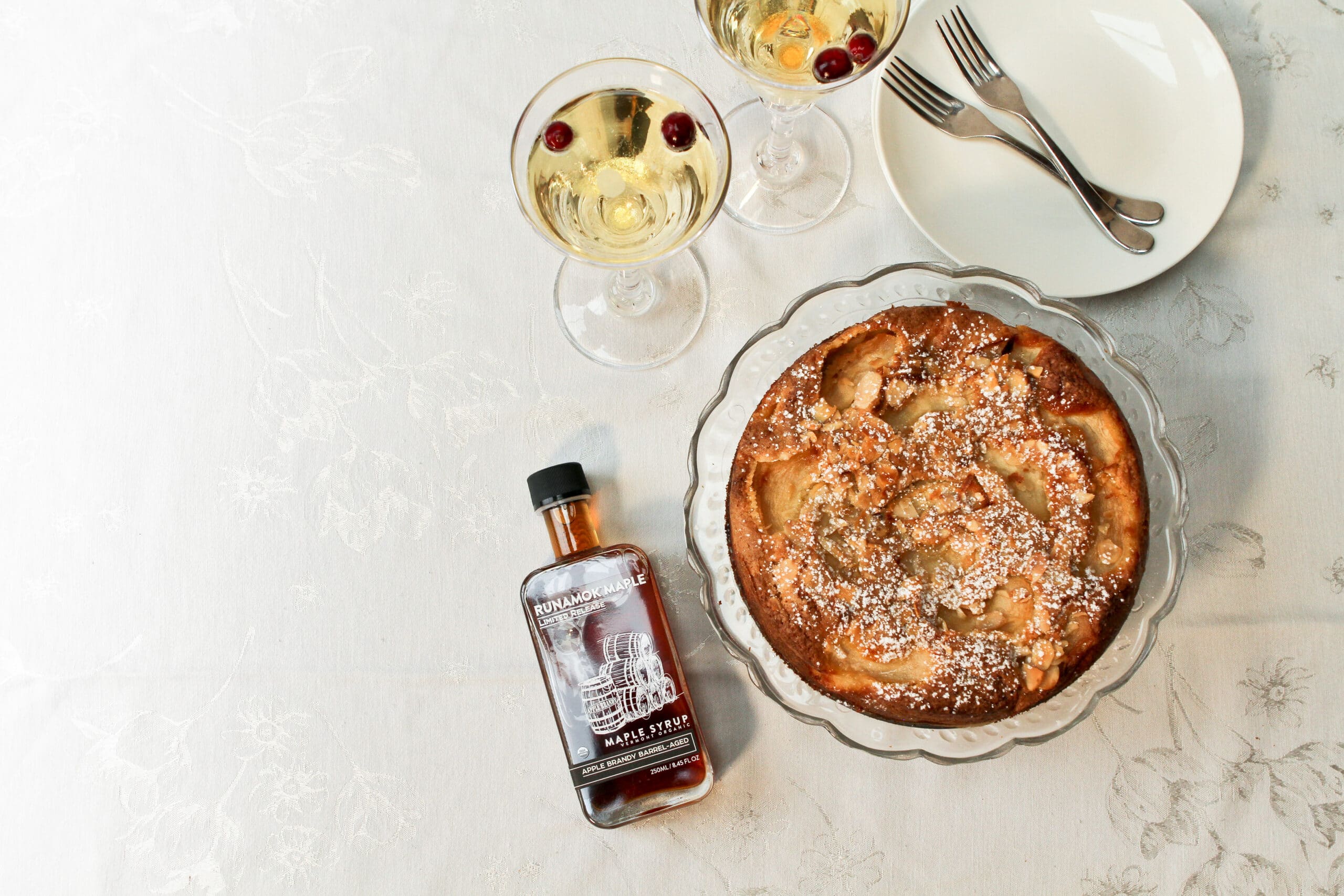 This is a traditional French cake, rich with almond flavor and dotted with apples. Before cooking, the batter is divided in half and extra egg yolks are added to the layer that goes on the bottom. This creates a gooey layer that is similar to the filling you'd find in an almond croissant. When finished, it is pretty darned good on its own but over-the-top incredible when drizzled with our Apple Brandy Barrel-Aged Maple or any of Runamok's barrel-aged syrups. 
French Apple-Almond Cake 
Makes one 8" cake
2 Honeycrisp apples
1 large egg 
1 cup, plus 3 tablespoons granulated sugar, divided
½ cup (1 stick) unsalted butter, melted
1 tablespoon apple brandy
1 teaspoon vanilla extract
¾ cup all-purpose flour
¾ cup almond flour
2 tsp baking powder
½ tsp salt
¼ cup cream
2 large egg yolks 
1 tbsp sliced almonds
Confectioner's sugar for dusting
Runamok Apple Brandy Barrel-Aged Maple Syrup (or Bourbon, Whiskey or Rum Barrel-Aged)
Preheat oven to 350°F. Grease an 8-inch springform pan with butter and line the bottom with parchment paper. 
Peel and core the apples. Dice one of the apples into 1" pieces and thinly slice the other. Place in a medium sized pan with a tablespoon of water and cook over medium heat for about 5 minutes or until softened but not brown. Remove from the heat and let cool completely.
In the bowl of a stand mixer fitted with the paddle attachment, beat the whole egg and 2 of the tablespoons of sugar at medium speed until pale in color, about 2 minutes. Stir in melted butter, brandy, and vanilla extract.
In a medium bowl, sift together flours, baking powder, salt, and remaining 1 cup sugar. Add flour mixture to egg mixture alternately with cream, beating just until combined after each addition.
Take out 1 cup of the batter and combine it with the two extra egg yolks. Stir in diced apples and most of the sliced apples until combined, reserving about 8 apple slices. Spread egg yolk batter into prepared pan. Top with remaining batter, smoothing over the bottom layer. Press reserved sliced apples and sliced almonds into top of batter. Sprinkle with the last remaining tablespoon of sugar. 
Place springform pan in the oven for 40 minutes and bake until a wooden pick inserted in center comes out clean. If it needs to bake longer, cover with foil to prevent excess browning,. Let cool in pan and then run a knife around edges of cake to loosen before removing from pan. 
Put a slice of cake on a plate and dust with powdered sugar. Drizzle with a little Apple Brandy Barrel-Aged Maple, leaving the bottle within reach for whoever would like more.