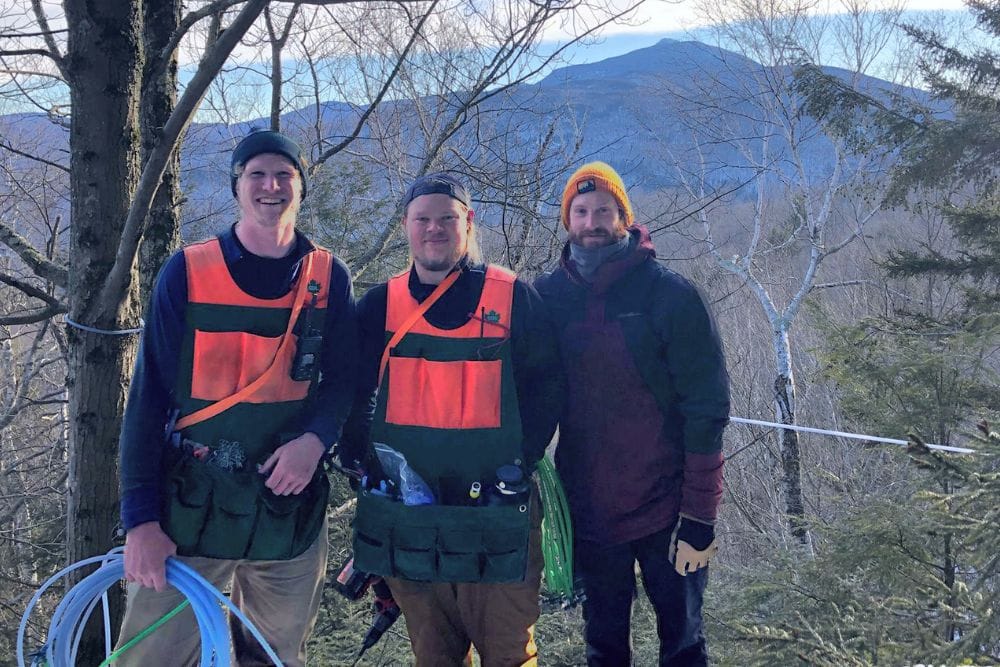 As I've said in a previous update this is backcountry maple: remote, quiet, dangerous, sometimes lonely, and always beautiful.
This is what I believe to be the new face of maple in our current climate shift. Maple has become less reliable than when I was a kid. It always seems to come on around town meeting day (the first Tuesday in March here in Vermont) and carry through late April. That's simply not the case anymore. We've seen more dramatic warm ups, more consistently through the entire winter season, and it's become incredibly demanding on all those who participate. If we don't rise to meet the demands of Mother Nature we will fail.
I wanted to take a moment and talk about this crew here in Bolton…
you may imagine (or maybe not) a bunch of manly men running around in buffalo plaid and wool pants with ice in their beards and eyes frozen shut from the slights of winter… Some of that is true. Some of us have beards, although I shave mine after the last tap goes in. Many of us wear wool, but with the modern advent of technical wool layers why wouldn't you?
Bobby, well he's our consummate cartoon character – always wearing the same outfit every day seemingly, no matter the weather, usually consisting of thermals, tan work boots, blue pants, a black and blue checked flannel, and a debatable (might be black) blue touque. He also goes as far as to carry a 10 pound river stone in the back of his tapping vest to ballast the weight in the front. It doesn't slow him down a bit, and to watch him boogie down a steep pitch with his long jet black hair flying from under his cap and that heavy vest of his always trying to ground him is a sight to behold! Bobby was a part of the original woods installation team and is quickly becoming a terrific woodsman and a critical part of our sap house team, which monitors sap flow pumps releasers and takes great care of the reverse osmosis machine!
The Bolton hive mind is a complex one. It's Naturalist agrarian gastronomic adventurist with a little bit of pirate, a splash of punk, and a whole lotta heart. Maggie, Lindsay, and Frank are our truest of agrarians spending their summers working on organic farms. Mags, as we call her, is the youngest crew member who brings a salty south Boston kind of spirit to the crew and whose voice would echo through valleys on even on the crappiest of walkie talkies.
Frank, whose bright-eyed-and-eager whole view of the world (and whose carnivore diet) has led to many jokes and attempts at nicknames, has finally earned himself the nickname "Tartarezan" after the famous Beef Tartare. Frank slid through tapping season on a steady diet of beef suet and a huge variety of raw meats ranging from ground beef to whatever whole animal parts he may have butcher from a local farmer on his days off. For being a first season woodsman, he knocks it out of the park! Frank, having grown up in Maryland, has determined that this is his last winter in Vermont. I and everyone else who returns will miss his spirit and upbeat vibe in the woods next winter!
Lindsay, our token Québécois Canadian (rumored to be a close descendant of a certain prominent Québécois maple family). Lindsay often wears these bright yellow and black snow pants that say "aggressive sled wear," which kind of defies her personality: not aggressive at all unless she's in full work form. Truthfully, when I first met her, I wondered if she even talked much… well, she's a spitfire. I would say in the words of Garrison Keillor "a bit like ketchup" (which makes sense because of the Québécois love for Ketchup chip)… Anyway, she just has that mellowing effect on the crew, but the core of her and her strength in the woods is far from mellow!
Speaking of mellow, the king of mellow: Neil "Diamond". His last name isn't Diamond, but he's mellow like yacht rock and shines like diamond in his efforts. It's always a joy listening to Neil on the radio while we're leak checking. When the line still has air on it, Neil often refers to it as "sizzling," which is a great description for large amounts of air commingling with sap. When the line is tight and there is no air left in it, just true vacuum, then Neil typically announces that it's tighter than Donald Trump's tennis shorts. This always leads to a myriad of cackling jokes across the radios. Neil is a rabbit wrangler in his spare time, raising terrific rabbit meat and is just another rock steady of a woodsman!
Harry was a newcomer this year. He comes from a background of being a darn good whitewater canoe guide in places like Alaska and far northern Ontario and Quebec. Harry brought a great mix of lightheartedness and a driving force that earned him the trust of our team – who know that in crisis Harry would be a great resource given his skills and training in wilderness rescue – not to mention his general stand-up attitude. Harry and I spent our first week together working fall cleanup on the B system, and his eager mind and can-do attitude was one that I knew shouldn't be squandered. He has grown to be a terrific woodsman for his first season!! At some point in the season, Harry brought to light that sun tanning certain unmentionable places on your back side was good for your health, which has left us with a dearth of bad jokes and a reputation for Harry that he simply won't live down any time soon.
Adam – our straight out Brooklyn via Colorado transplant who saw an ad for Runamok on Indeed, got the job, and wrestled his way into the Vermont housing market in record time – has climbed his way into the balance of the crew with his quiet storm zen. Rock climber skills pay off when Adam's on hand for the hard to reach elements of the sugar woods, such as high valve and mainline work. I say "quiet storm" because generally Adam's quiet. He's a thinker, a philosopher, and a writer – currently writing a book that is a mixture of metaphysics and etymology, due to the emphasis of Greek and Latin roots (on an old classic typewriter mind you). When you're in the woods there's a lot of thinking time. Often times there's someone nearby, yet far enough away that conversation is not easy. I feel like that works for Adam. Yet if you're all working as a group, Adam ramps right up and brings all the elements to the table that make this team so unique.
Then there's John, our Grand Concentrator and another OG of the Bolton install. John probably knows the Pinneo basin better than anyone knows the history of the system and, for that matter, is the history of it! John spends up until sap flows with us in the woods doing fall cleanup and tapping. When leak checking rolls around John, in conjunction with Bobby, are manning the pumps and releasers and making sure they're running tip top for the start of the seasons. Just the other day I got a Can am stuck (it's our machine UTV that gets us where we need to go). Well, I buried one pretty good way up on the mountain while trying to open road access after a snow storm. I called John at base and asked him to come give me a hand. I heard it in his voice when I told him I had trouble: his generally mellow tone lit right up with excitement and eagerness to help me out. He was up the mountain shortly and when he rolled up his eyes were gleeful. I took one look at him and said "you love this sh*t don't ya?" To which he responded that he loves trouble shooting problems. That's an invaluable attitude and a skill set that not everyone has, and I think the kind of attitude that's kept John around Bolton. I can tell you from doing maple installation elsewhere that it's not easy work and Bolton was probably some of the toughest. John's not a big person physically, but he certainly is in stature!
Lastly Mr. Nate "Dog" Carson my equal, the other crew lead of the team. Nate worked last winter through this winter in the woods and was a superb help for me in getting to know the woods and how to staff certain areas. Nate and I shared a lot: both being artisan bakers and chefs in our past lives brought us an immediate understanding of one another. Turns out we are both scorpios as well, which we'd both tell you are natural born leaders… I can say in all honesty that Nate was exactly that. He's a terrific crew lead and I can't say enough about what an honor it's been for me. This is Nate's last season. His passions move him on to a cidery in central NY State to perfect proper hard ciders and other earthly pleasures. I have no doubt, Nate, that you'll kill it!
To wrap it all up, this sugaring season has only yet to really take off. The crew has worked extremely hard weeding out system leaks and we are on the verge, for the most part, of the goal I spoke of before of achieving perfect vacuum. This kind of work can only be done at its best when you have the best to do it with. I am lucky.
Cheers to all!
Dave Aronson
Runamok Crew lead on Bone Mountain, Bolton, Vermont