Bar Essentials Gift Box
$69.95
This gift box features three products that will elevate any at-home bar set up: Maple Grenadine, Maple Old Fashioned and Sparkle Syrup.
The range pairs beautifully with all spirits, perfect for mixing classic cocktails or crafting your own unique concoctions.
What's Inside?
– Maple Grenadine
– Sparkle Syrup
– Maple Old Fashioned
How's it Packaged?
Our premium, hard-cover black gift boxes are assembled and labeled by hand at our Vermont facility. Inside the box recipients will find a custom-branded Runamok card and vellum covering, along with three premium maple syrups.
Recommended Uses
These three flavors will instantly elevate any at-home bar. The variety pairs well with all types of alcohol and feature endless cocktail combinations: Old Fashioned, Dirty Shirley, Tequila Sunrise, Ward 8, Maple Margarita, etc.
Runamok is a family-owned and operated specialty foods company based in Northwestern Vermont. All products are made at our facility in Fairfax, Vermont.
We are committed to sustainability. Our maple syrup is sourced from our certified organic, certified bird friendly sugarbushes in Cambridge and Bolton (Vermont) and from family-operated sugarbushes across the state.
All products are Certified Kosher by the Orthodox Union, are naturally gluten free and are vegan friendly.
Maple Grenadine
While traditional grenadine was made with pomegranate juice (from the french grenade) and sugar, nowadays grenadine is a chemical concoction combined with High Fructose Corn Syrup resulting in a sickly sweet red syrup. We've gone back to the original grenadine recipe subbing out refined sugar for maple syrup and keeping the ingredient list 100% all natural. Instead of Red 40 and Blue 1 you'll find real fruit and vegetable juices; in place of artificial flavors, pomegranate and lime juice; Maple Syrup brings the sweetness in place of High Fructose Corn Syrup – you get the idea.
Use our all natural Maple Grenadine in your favorite cocktails and mocktails or swirl it into your everyday unsweetened seltzer for a delicious and refreshing drink. We've found this mixer satisfies both adults and kids alike… so you might want to keep a few extra bottles stocked!
Maple Old Fashioned
Maple and whiskey were made for each other so it makes sense that the very best Old Fashioned would be made with a maple-based mixer. We use only organic maple syrup and real herbs and spices, without any refined sugar.   Not too sweet with a small bite from our very own bitters, everything needed for the perfect cocktail is included in the mixer – just add bourbon. The richness and depth of flavor from the maple has created a new standard for Old Fashioned cocktails.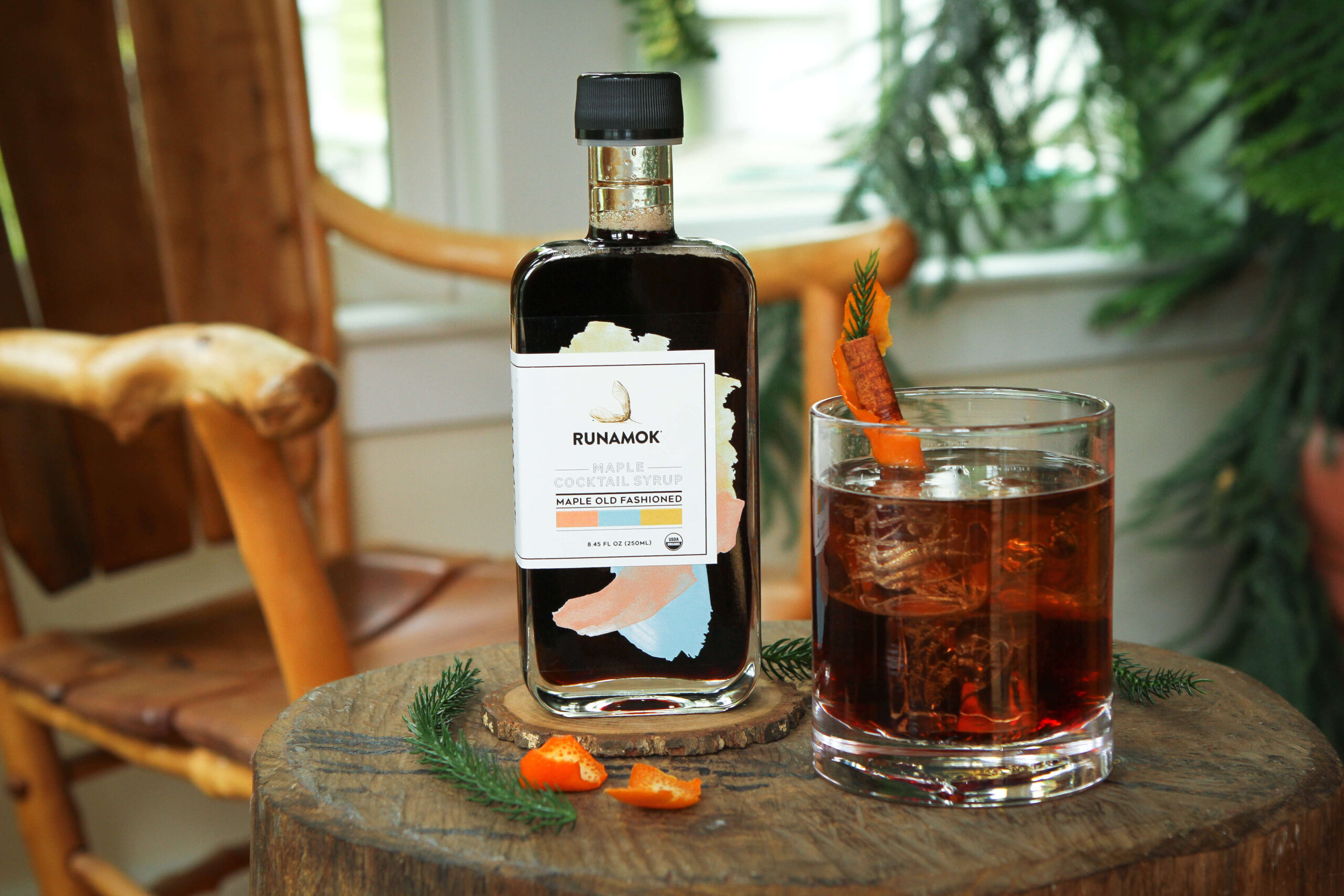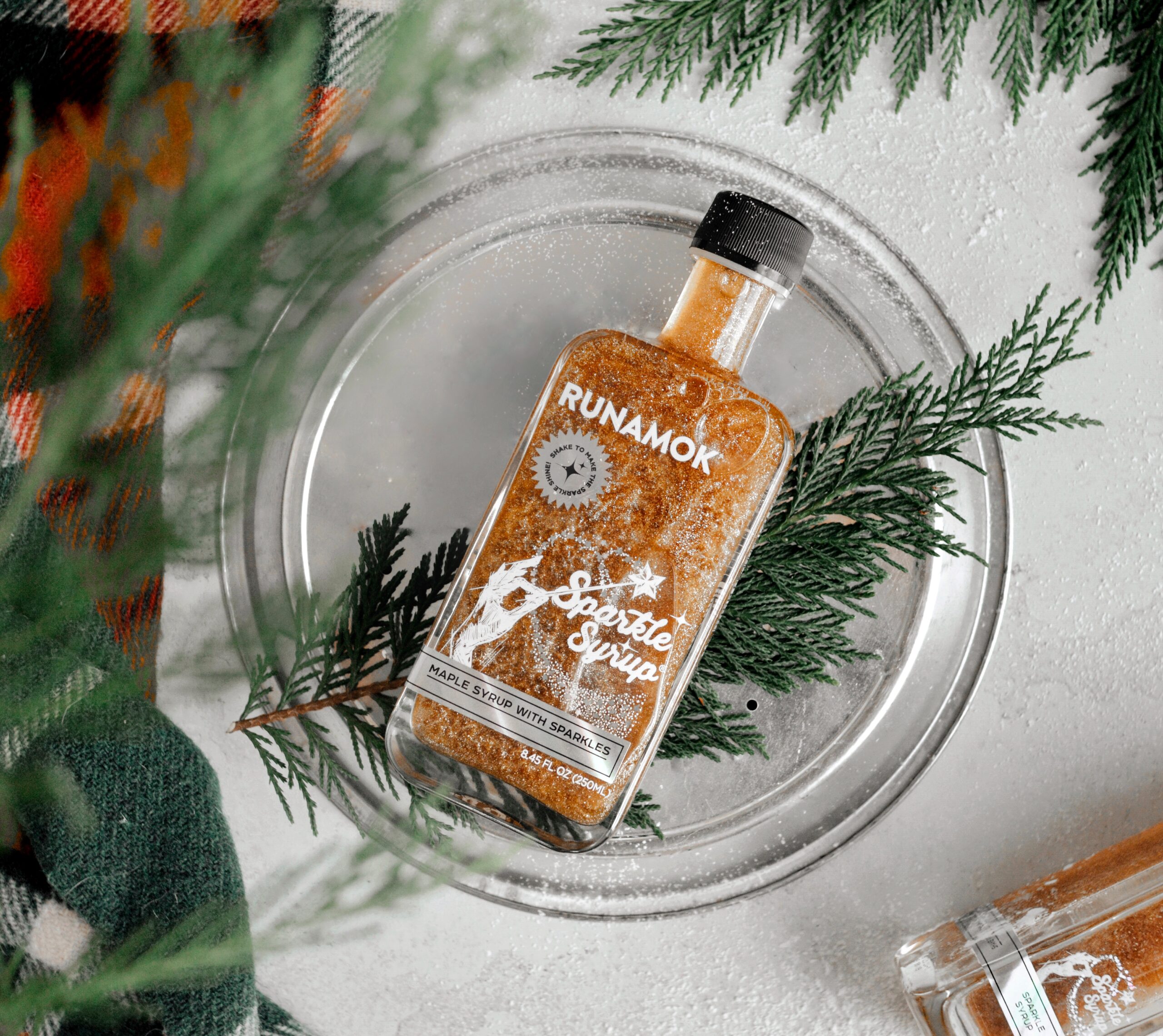 Sparkle Syrup for Cocktails
Sparkle Syrup was created with one sole purpose: to make you smile. While it's amazing over pancakes and other breakfast favorites, Sparkle Syrup is also a fun and unique ingredient to use in cocktails. Replace refined sugars in cocktails or craft your own simple syrup using Sparkle Syrup as the sweetener, and you've got a cocktail that is as beautiful as it is delicious. Be sure to shake the bottle well before using it to maximize the shimmer.