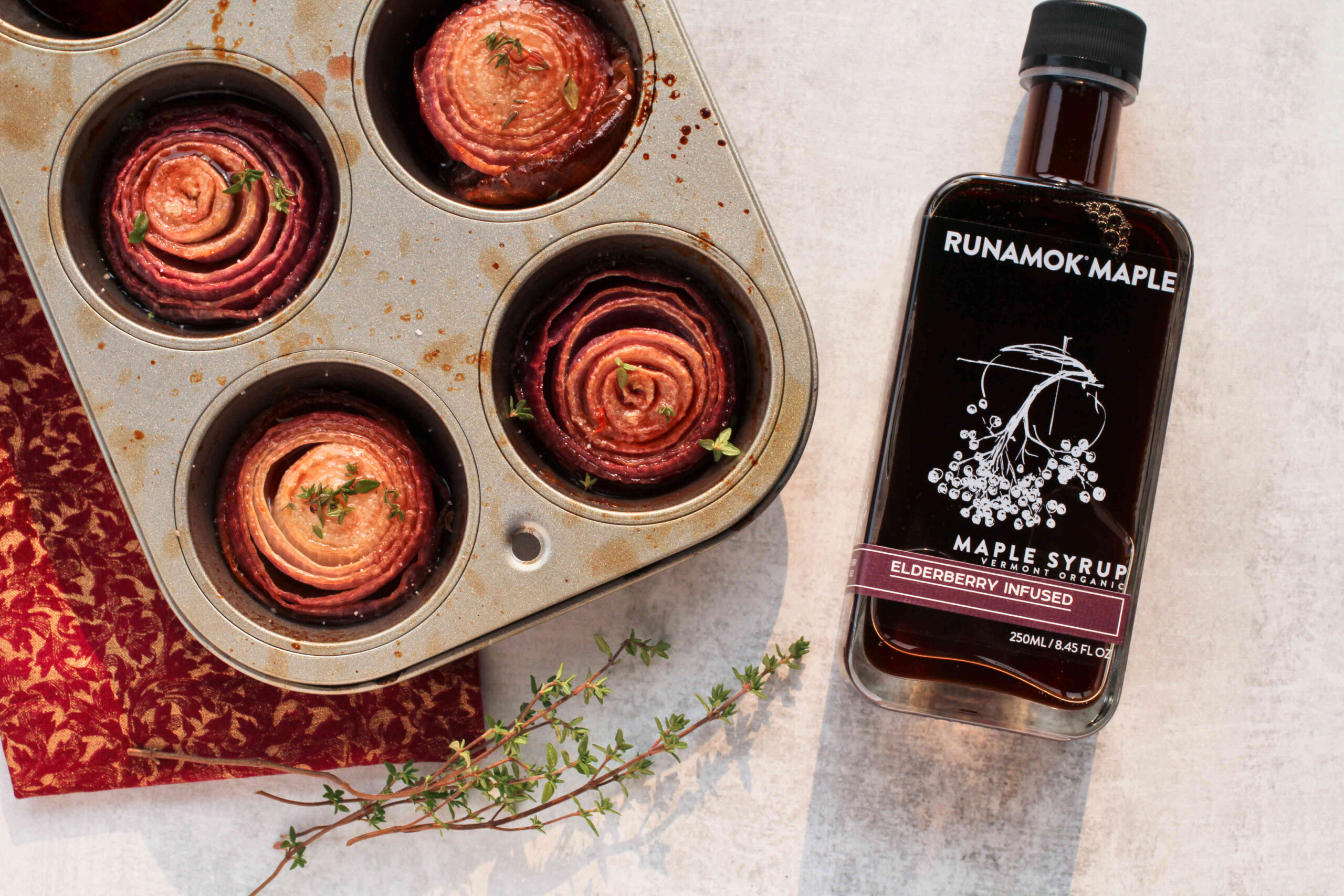 Roasting onions in the oven with butter, salt and a maple glaze can mellow them into a lovely addition to roast turkey, pork or duck. In this method, they are cooked in a muffin tin which not only helps them keep their shape and hold in seasonings but also makes for a fun presentation. They are doused with Elderberry Infused Maple and a touch of vinegar for an earthy, sweet and sour sauce. If you have pure maple syrup, that would work too. I have left the amount up to you based on how many you are serving. You can estimate a half onion for light eaters and two halves for hearty ones.
Ingredients:
Red onions, medium sized

Butter

Salt and pepper

Red wine vinegar

Elderberry Infused or Sugarmaker's Cut pure maple syrup
Preheat oven to 375. Select medium sized red onions that fit into an average muffin tin, gauging one to two halves per person . Take an onion and carefully slice the root end and tip off, then peel off the outer skin and cut it in half down the middle of the widest part. Repeat with remaining onions.
Grease each muffin cup with butter, place an onion half in each cup, cut-side up and dot with about a teaspoon of more butter on top. Season with salt and pepper.
Roast in the oven for about 15 minutes or until the onions have softened. Take the tray out and drizzle about a teaspoon of Elderberry Infused Maple (or Sugarmaker's Cut pure maple) and a teaspoon of vinegar over each onion half. Return to the oven and roast an additional 15 minutes or until the tops are starting to brown. Remove from the oven and serve.