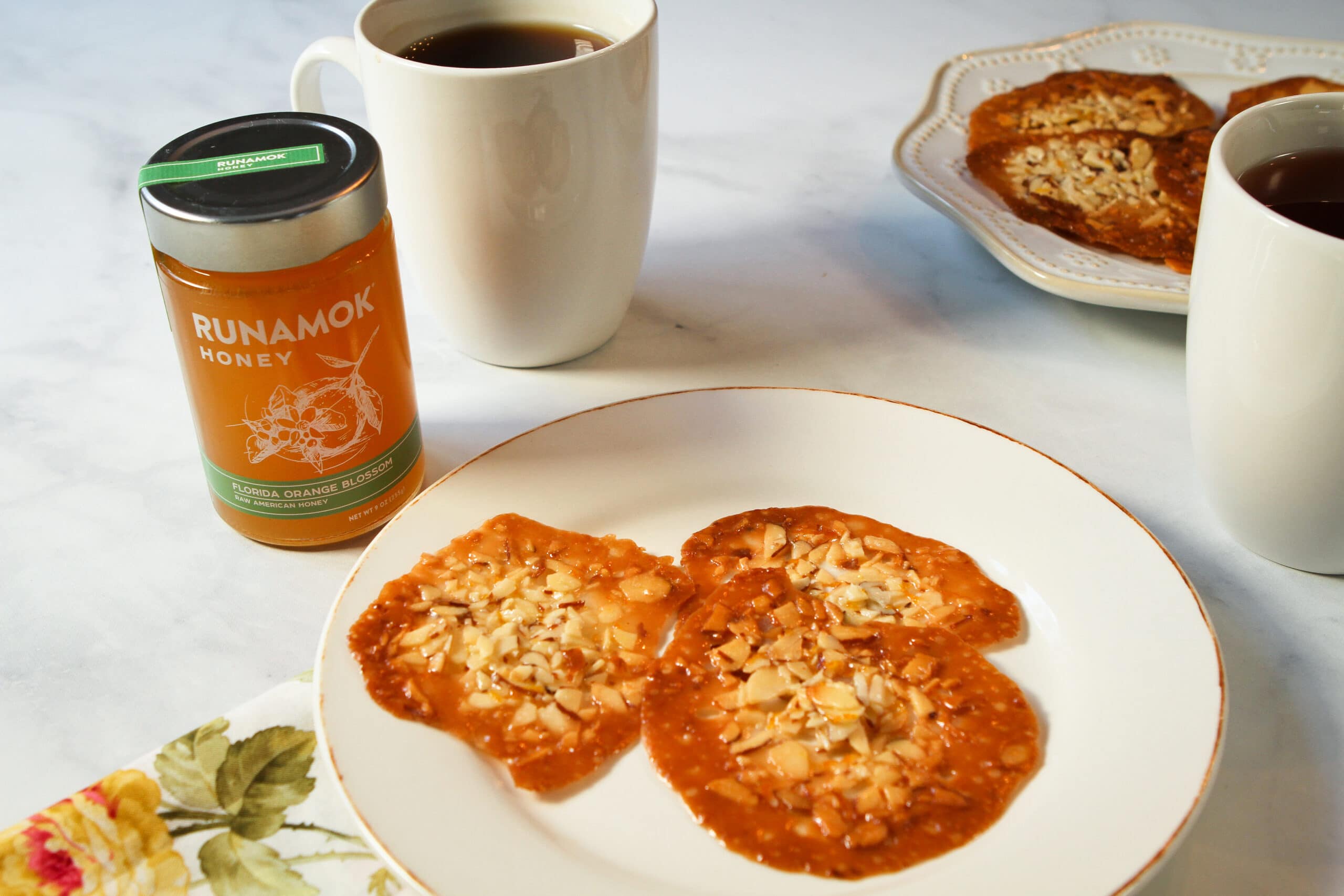 This cookie is a lovely little treat that is perfect with a cup of tea or coffee in the afternoon. The orange and almond play beautifully together and the honey really shines through in the caramel base.
The key to getting these right is to put just a scant 1 teaspoon of batter onto the baking tray and spread them out with nearly 6" of space in between. Before baking they will look paltry but the sugars will melt into a puddle and then firm up into caramel. Anything more than 1 teaspoon and you will be making almond brittle. You also want to keep a close eye on them in the oven and take them out when they are almost fully brown with just a little white still in the middle.
2 cups sliced almonds, chopped
3 tablespoons all-purpose flour
2 teaspoons grated orange zest
3/4 cup sugar
1/2 cup (1 stick) butter, cut into pieces
1/3 cup whipping cream
2 tablespoons Runamok Orange Blossom Honey (you can also use Bee Keeper's Cut, High Plains Clover or Lemon Verbena)
Position the rack in the center of the oven and preheat the oven to 350 degrees F.
Line a large baking sheet with parchment paper and set aside. 
Stir the almonds, flour and zest in a medium bowl. 
Stir the sugar, butter, cream, and honey in a heavy medium saucepan over medium heat until the sugar dissolves. Bring the mixture to a boil. Remove the pan from the heat. Stir in the almond mixture. Let the batter cool completely, stirring occasionally, then chill for 1 hour. 
Using 1 teaspoons of batter for each cookie, spoon 6 mounds of the batter onto the prepared baking sheet, spacing evenly apart. Bake the cookies until they are lacy and golden brown, about 7 minutes. Gently slide the parchment paper with the cookies onto a rack and cool completely. 
Repeat with the remaining batter, lining the baking sheets with clean parchment for each batch.