Here at Runamok, we are always trying to get people to think beyond pancakes when using maple syrup.  There is no better time to demonstrate this than in summer.  This is a season to lighten up and take advantage of seasonal fruit and veggies in salads, desserts and drinks. Consider all of the places you might use refined sugar like in iced tea or over fruit.  Maple is the better option for convenience and flavor. Even more fun is to use one of our infused maple syrups for an added dimension like our Cocoa Infused Maple Syrup in an iced latte or Hibiscus Infused Maple Syrup in lemonade. If these sound mouth watering, stick around, we've got loads of ideas.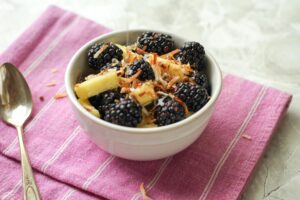 Maple syrup makes for easy drinks like in iced tea and lemonade because there is no tedious extra step dissolving granulated sugar. Furthermore pure maple syrup tastes better and the infused maple syrups give an extra punch of flavor like tangy Hibiscus or floral Makrut Lime-Leaf. (Try either of those in our Italian Soda a.k.a. Mont Verde Soda). In cocktails, maple is a no-brainer. Most cocktails have at least a little sugar added for balance and maple is the perfect accompaniment. Our Ginger Root Infused is particularly good in summer cocktails because the ginger adds just a hint of spice such as in the Sky Blue Vespa with peach juice and champagne. Jasmine Infused Maple Syrup is also very summery with its floral notes and is the perfect thirst quencher in the Maple Blossom, with gin and grapefruit juice.
Maple syrup and salads might seem incongruent but just a little is all you need to brighten just about any kind of vinaigrette. We have three different vinaigrettes on our website that have very distinctive characters. The Elderberry Infused Maple Vinaigrette is very earthy and goes well with grain salad, like farro or rice.  The Pecan Wood Smoked Maple Vinaigrette has just a hint of smoke which balances well with meat or shrimp in a salad.  And the Lemon Vinaigrette, which features our Makrut Lime-Leaf is a bright and zesty dressing that compliments any green salad. A maple dressing is also perfect for more substantial salads such as the Corn and Bean Salad or our cold Sesame Noodles.  The maple is not there to make these dishes sweet but as a seasoning, working with the salt and vinegar (or lemon) for a balanced flavor.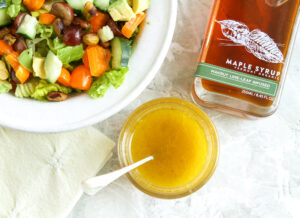 With fruit, you can embrace the sweetness of maple. It is ideal to add to smoothies, such as in our Mango Kiwi Smoothie with Coconut. We also have a Blueberry Smoothie and a Ginger Pineapple smoothie recipe, each with a different infused maple. Homemade maple popsicles are fun and healthy when you make them with nothing more than pureed fresh fruit and maple syrup.  We have three colorful options to try (the guava is my favorite). And if you have a dessert with fresh fruit on top such as Strawberry Shortcake or this Plum Ricotta tart, there is nothing easier than tossing the sliced fruit with a little maple syrup for an easy sauce.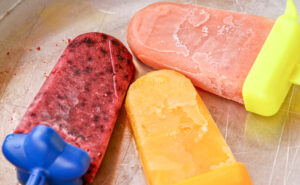 Summer is the best time for fresh fruit but sugar content varies and you never know exactly what you are getting until you slice into that fresh nectarine, plum or melon.  Making desserts at home, you can control the amount of maple syrup you put in, adding a little for a sweet boost or maybe some more if the fruit needs a little help.